Swimming pools may be commonplace in California backyards, but they all are not created equal. Designed and built by some of the best luxury pool builders in the world, the six California pools below are far from ordinary and feature some of the most stunning design elements, including sparkling Italian glass tiles and dazzling fire features. More importantly, each pool is a stunning focal point that compliments—not competes with—the beautiful landscape and architecture surrounding it.
Which pool are you ready to plunge into? Tell us in the comments below!
---
1. Petite Perfection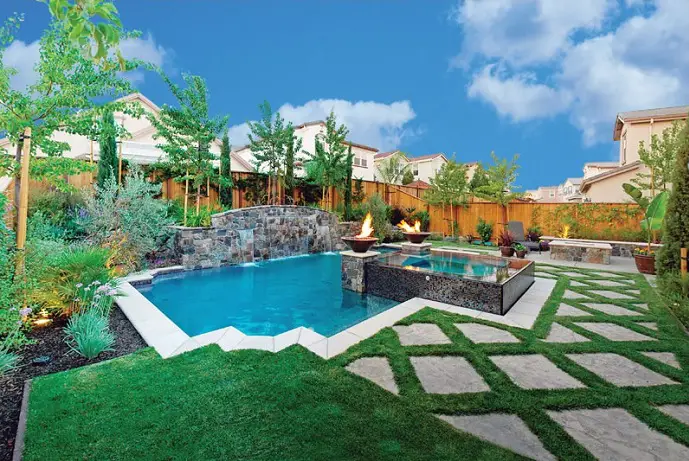 Small in size but big on impact, this geometric pool boasts a beautiful stacked stone wall with three sheer descent waterfalls that provide a shimmering sight and tranquil acoustics.
The glass-tiled raised spa, blazing fire bowls, and diamond pattern pavers contribute elegance and excitement while complementing the pool's clean design aesthetic.
Photography by Vern Nelson, Sonoma Vistas
---
2. Hilltop Escape
This exquisite pool and spa combination won a 2010 Pinnacle Award for its superb design and engineering.
Built on a hill overlooking the city of Los Angeles, the pool features a negative-edge design, allowing for the best view possible—and the feeling that you're swimming in the sky. Gorgeous Italian glass tiles adorn the raised spa and reflect the glittering lights of the city skyline.
Photo courtesy of David Tisherman's Visuals, Inc., Manhattan Beach, California
---
3. Simply Stunning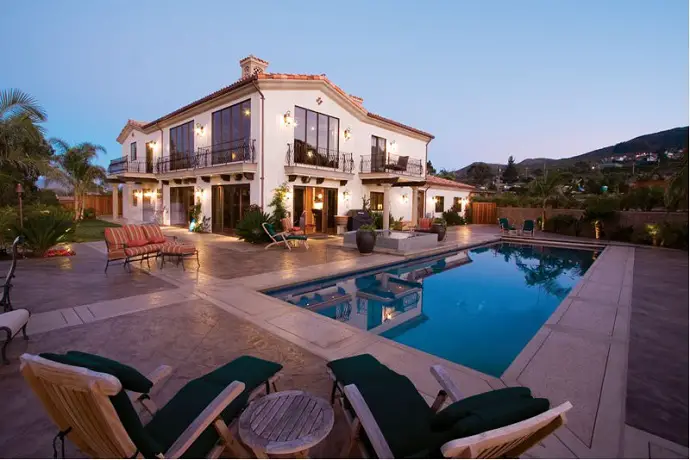 Sometimes simplicity offers the most beautiful outcome, as this classic California pool demonstrates.
The pool's classic rectangular shape and attractive stamped concrete deck blend perfectly with the home's Mediterranean style. The brilliant blue finish adds to the pool's aesthetic appeal and complements the warm terra cotta tones found in home's roof and outdoor furnishings.
Photo courtesy of Carefree Pools, San Luis Obispo, California; Tom Meinhold Photography
---
4. Contemporary Cliffhanger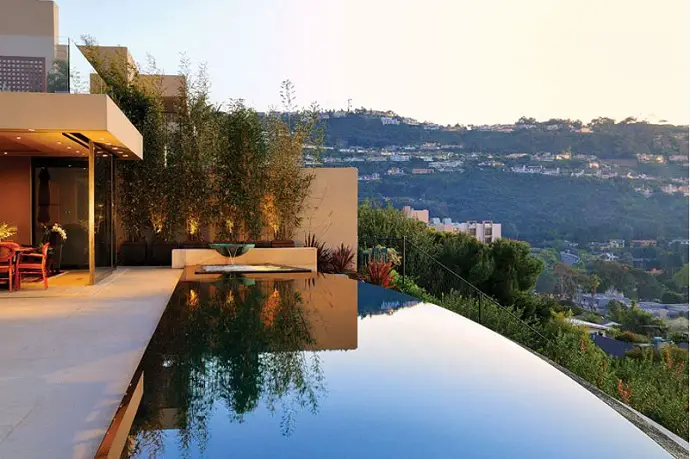 What better way to explore the natural beauty of California's hills and valleys than from this striking pool with cliffside views?
The pool's sleek lines, sweeping vanishing edge, and dark interior finish pay tribute to both the property's modern architecture and spectacular vista. Notice how the water in the pool reflects the surrounding scenery, giving the illusion that the pool's surface is a mirror.
Designed by Skip Phillips in conjunction with Island Architects and Bruce Rudd, Landscape Architect; Photography courtesy of Gary Conaughton
---
5. Rustic Retreat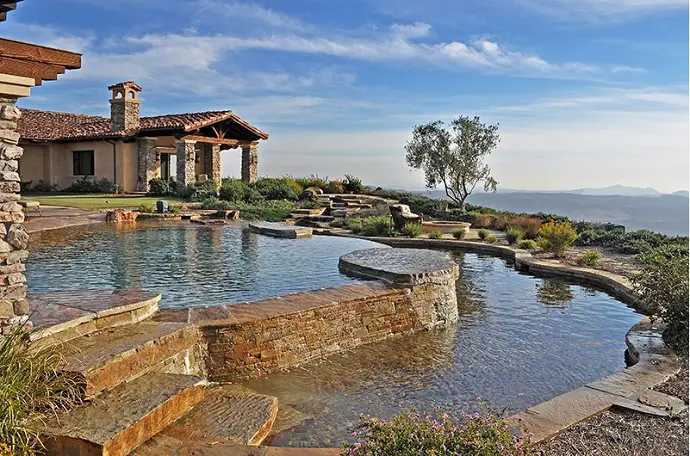 It's hard to discern if this is a man-made swimming pool or a natural cliff-side hot spring.
Blending seamlessly with the surrounding mountain landscape, this 96-foot long multilevel pool features a river rock interior and vanishing edge, which offers an unobstructed view of the majestic vista. Water spills over the edge of the main pool and into the lower level, adding the sound of a calm trickle to the already serene setting.
Photo courtesy of Master Pools builder Mission Pools, Escondido, California