B&B Pool and Spa Center has won more than 50 national and international awards for design excellence, customer satisfaction, service, and professionalism. A family-owned business serving residential and commercial clients, longevity and beauty are two hallmarks of a B&B. The Bagin family—Craig; Drew, Sr.; Derek; and Drew, Jr.—personally oversee each project from concept through completion, ensuring creativity, quality construction, and value. 
President Craig Bagin has successfully built Award of Excellence pools and spas, including some with daunting engineering requirements. Whether he's building on a difficult terrain or facing hydraulic challenges, Craig prides himself on delivering quality workmanship, professionalism, and service for every project. His construction team has trained under his direction for years—some for decades.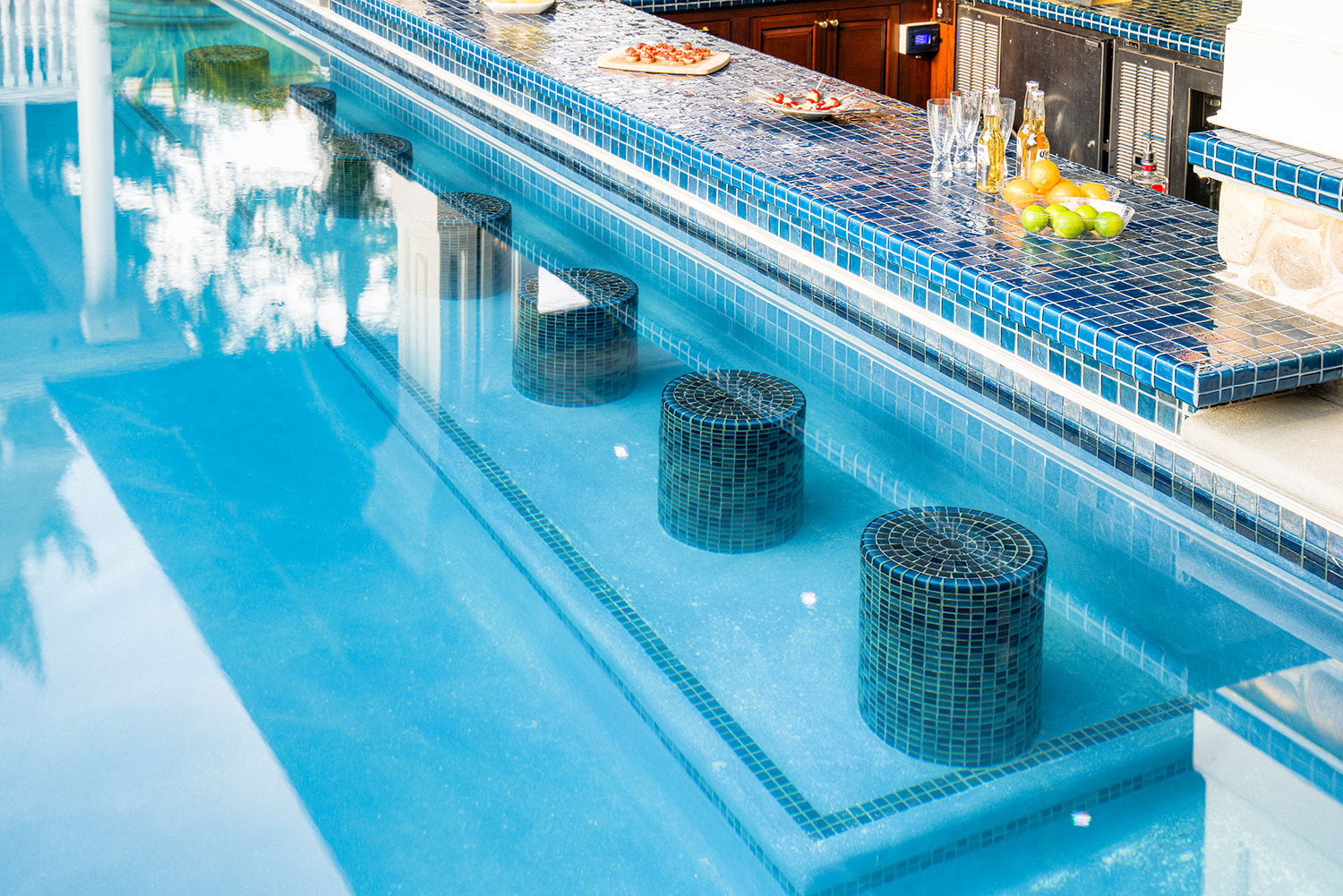 Two of B&B's projects were featured on the television show, "Cool Pools." Viewers were thrilled by a spectacular indoor pool, constructed under a glass pyramid modeled after the one at
the Louvre museum in Paris, and an outdoor splash fountain, set in a
marble-lined courtyard.
In the first project, the surface of the rim-overflow pool—lined with blue glass and 24-carat gold tiles—lowered on command to reveal a hot-water spa hidden beneath the surface at one semi-circular end of the pool. It took an engineering innovation by Craig to raise the water level to separate the hot water of the spa from the cooler water of the pool.
B&B continues designing extraordinary luxury pools. The creativity and vision of their designers begins with determining customer wishes and then collaborating with their customers to create the perfect backyard. The only design limits are those of imagination, and B&B has been expanding those limits since starting operations in 1972.
Now, with the third generation of the B&B family stepping up, Craig's son Derek has taken the position of vice president of construction. Drew, Jr. has the critical role of managing the day-to-day operations of the retail and service divisions at B&B. He ensures that every customer and every project receives the attention and professional service that is the hallmark of B&B's 48-year reputation as the premiere pool company in the Northeast.
B&B's excellence extends beyond the Bagin family and their crew to include two highly regarded landscape architects whose expertise and creativity deliver completed backyard projects to the company's satisfied customers.
The technical, hydraulic, and artistic capabilities of the B&B team are augmented by their commitment to safety and energy efficiency. As the exclusive purveyors of the IntelliPool® and IntelliSpa® systems, B&B delivers the most advanced automated pools and spas anywhere. B&B not only builds custom pools and spas, but are a warranty and service center for everything they build and the Sundance® Spas they carry in their retail location.
B&B Pool and Spa Center
Member of Carecraft, Pool & Hot Tub Alliance, Northeast Spa & Pool Association, American Society of Landscape Associates, Certified Pool Builders (CPB),
Certified Service Professionals (CSP)
787 Chestnut Ridge Road
Chestnut Ridge, NY 10977
845-356-0837
info@bbpoolandspa.com
bbpoolandspa.com
In Business Since 1972
Builds and Designs 20-30 Pools per year
SERVICE AREA: New Jersey and New York