F
rom the heart of Lancaster County's rolling farmland comes exceptionally crafted poolhouses, outdoor kitchens and bars, pavilions, pergolas, and sheds. Since 2003, Homestead Structures has been building and installing backyard structures that far exceed customer expectations—collaborating with landscape architects, builders, and pool companies to create extraordinary outdoor living spaces.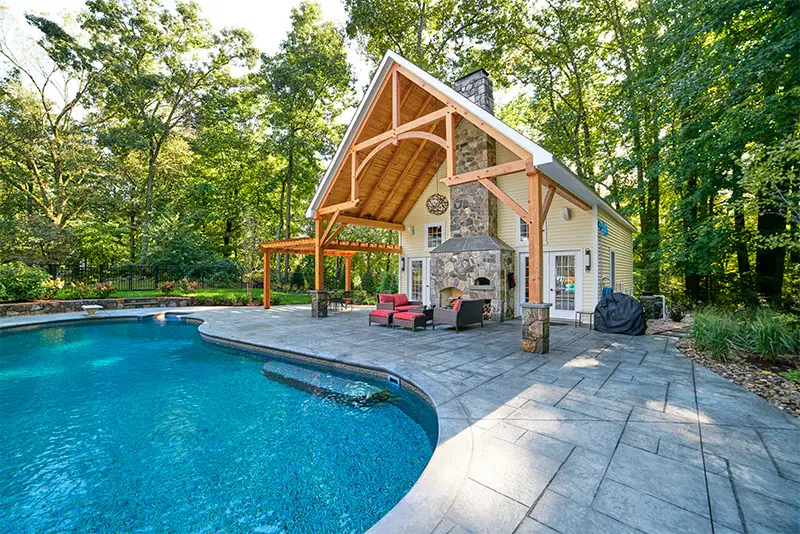 Homestead was conceived by Stephen and Martha Stolzfus as a side business to supplement their dairy farm. Over the years, the company has grown into a flourishing business that fills the need for high quality storage and outdoor living solutions in the Mid-Atlantic region. Today, Homestead is one of the best known builders of poolside structures up and down the east coast.
Homestead's handiwork features old world craftsmanship, coupled with modern techniques and materials, designed around the client's vision. Homestead custom designs each structure to fit the environment of the pool or property style, or family lifestyle. The result is nothing short of breathtaking. Homestead also offers several standard model poolhouses—customer favorites—and designs and builds timber frame, vinyl and wood pavilions and pergolas.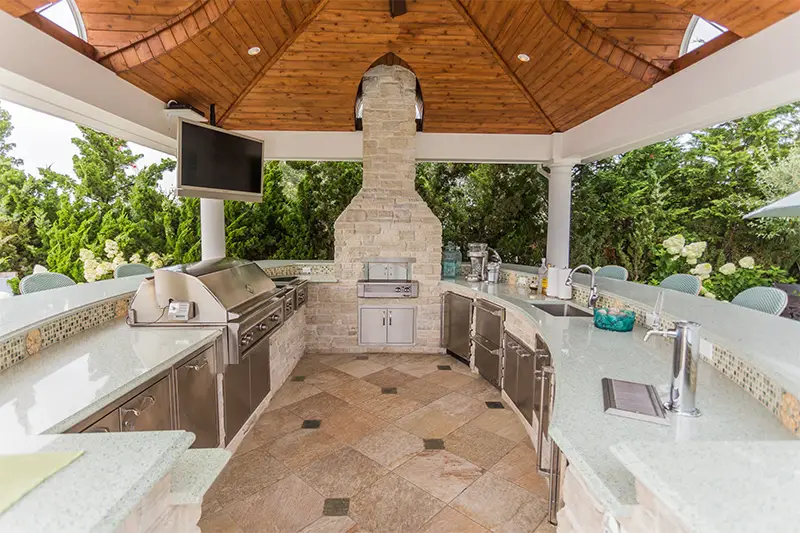 Homestead is within easy reach of Philadelphia, South Jersey, DC, and New York. Their manufacturing facilities are situated on the family farm and run by a dedicated and talented team of Amish craftsmen. Building crews travel up and down the east coast and into the Midwest to build custom structures, while poolhouse and pavilion kits are shipped all over the U.S. for contractors or handymen to assemble.
"Our sales and design team walk our customers through the design process, ensuring all the features and amenities they want are included," explains owner Stephen Stoltzfus. We provide drawings and 3D renderings to be sure the design is up to their standards before sending it to our shop. From there, our craftsmen and crews take over, prefabricating all the parts in our shop, so the crews can efficiently assemble them onsite. This allows us to build quickly and neatly, ensuring a clean job site and as minimal disturbance to the customer's property as possible."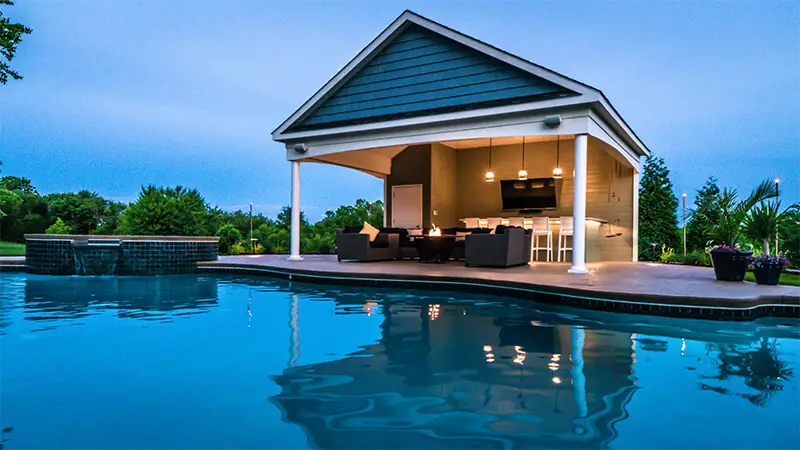 Homestead Structures takes great pride in their work and the joy it brings customers. Adds sales director Melvin Stoltzfus, "The best part of our job is building the perfect retreat for our clients to spend time with family and friends, creating memories that last a lifetime in their own backyard."
Photographs by Eric Strohm of Strohm Photography and Marc Poirier
HOMESTEAD STRUCTURES, LLC
Member of Pool & Hot Tub
Alliance, Northeast Spa & Pool Association, and Penn-Jersey Pool & Spa Associations


901 Peters Road
New Holland, PA 17557
877-272-7252

sales@homesteadstructures.com
homesteadstructures.com
In Business Since 2003
Builds 100+ Pool Structures per Year
Service Area: United States