For many years, pools and outdoor landscapes served a couple of rather narrow purposes: cooling off and looking nice.
But today—especially as more people are staying home during the COVID-19 pandemic—pools and poolscapes serve a seemingly endless number of purposes. They're outdoor living spaces with kitchens, seating areas, and entertainment centers; they're recreation spots with slides, lazy rivers, putting greens and bocce courts; they provide places to exercise and strength train; they're adaptable and accessible for people with disabilities; they seamlessly transition between a pool and a patio with the push of a button; and do double duty as meditation spots and, as is the case of natural pools, outdoor habitats.
It all ties back to one thing: Getting the most out of your backyard, rooftop, or even garage. "I think people tend to overlook the functionality of the pool," says Ryan Landwehr, director of sales and marketing for Endless Pools. "What's its intended purpose?"
By asking that question, you can make the most out of your pool, allowing form to meet function in the best and most fun ways.
Maximizing Space
Not everyone has a huge backyard for a pool, and even if they do, a large pool might not be what they want. Luckily, pools for small spaces are increasingly popular, allowing homeowners to have more functional backyard space while still being able to enjoy the luxury of a pool. "What's really trending in the industry are smaller pools," Landwehr says. "You try to have as many uses of your backyard as possible."
Shannon Knaub, design manager for Diamond Spas, says they regularly design and fabricate small-space aquatic vessels. "Our innovative design work with stainless steel and copper allows us to be very creative in tight spaces," he says. "The description I hear a lot is 'simple and elegant.'"
However, even "simple" designs don't have to be bare-bones.
"We can incorporate custom intimate seating, water features, vanishing edges, along with custom freeform shapes into our 'small space' projects," Knaub says.
Lighter weight stainless steel pools also work well for the rooftop pools that are popular in high-rise regions like Miami and Fort Lauderdale, says Jason Jovaag, general manager of Aquatic Glazing International. "You're adding the weight of water," he says. "A good option around that is to go with a stainless steel pool."
Added Fun
In addition to being great for small spaces, certain pool designs and innovations can maximize the fun in your backyard. Jovaag points to pools that convert into a patios, thanks to hydraulic moving floors that can be raised and lowered in as little as five minutes with the push of a button.
"I've seen people have their whole cocktail parties or put furniture out there so the space doubles" as a pool or patio, depending on the needs of the moment, he says.
A less expensive alternative to the hydraulic floors are hard, moveable pool covers that also allow pools to serve double duty and can be walked on, says Danny Wang, principal of Danny Wang Design. "If you have to choose between a pool and a hardscape why not have both?" Wang asks. "That gives you a dual purpose.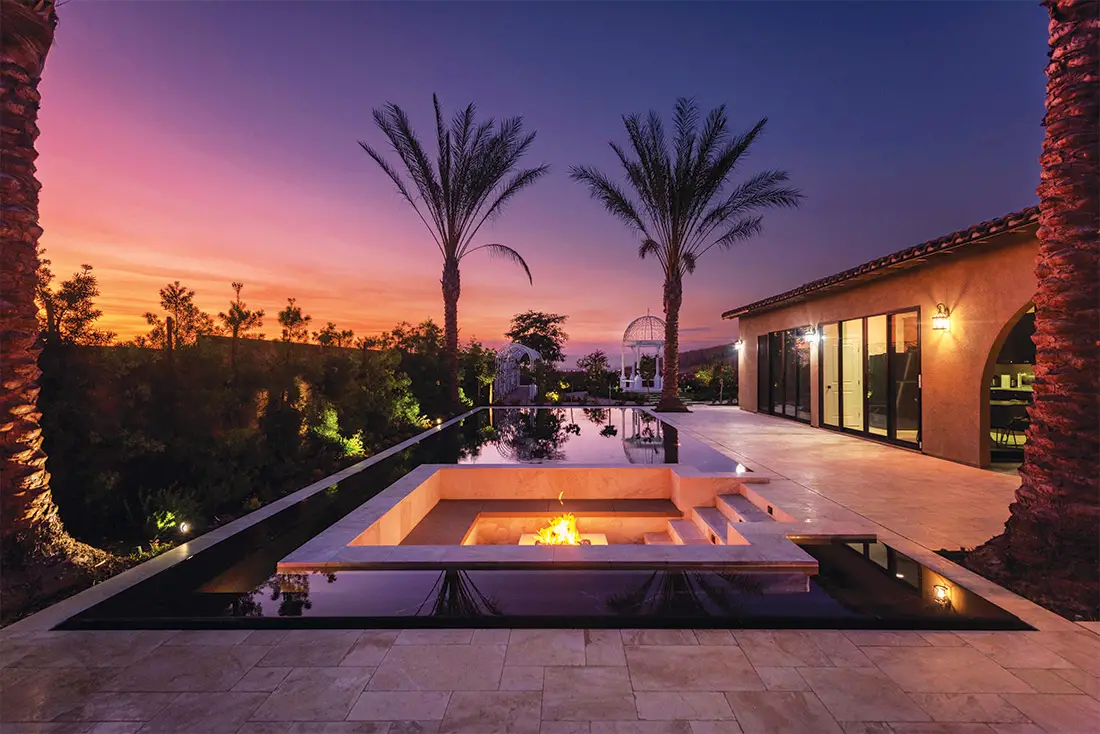 In addition, Aquatic Glazing International's work in the supply and fabrication for underwater viewing windows has fun uses for the home environment, adding an extra element of excitement and even education to the swimming experience. Jovaag points to viewing window applications for features such as koi ponds or tropical aquariums.
"We get requests similar to this somewhat often," he says.
Solutions for Body and Mind
In addition being places for entertaining, relaxing, and having fun, pools can have the added purpose of being good for your mind and body, allowing homeowners to exercise, meditate, and center themselves without going to a gym or on a wellness retreat.
For instance, Endless Pools' products are not only great for small spaces—they are often installed inside places like basements, garages, and sheds—but their "swim-in-place" technology allows for the kind of swimming workout that is usually only available in large pools.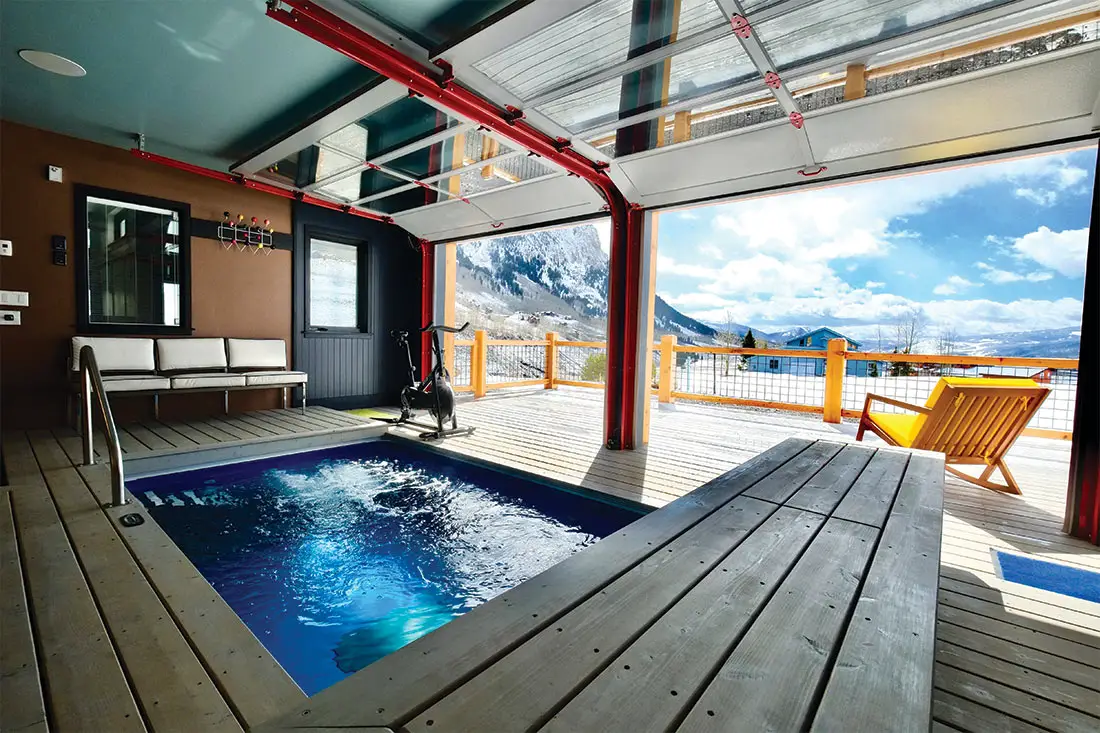 By providing a "small footprint for swimming," Endless Pools opens up lots of possibilities for at-home aquatic fitness, Landwehr says.
Similarly, Wang points to swim jets, which can be installed to create a current, as well as workout equipment like underwater treadmills.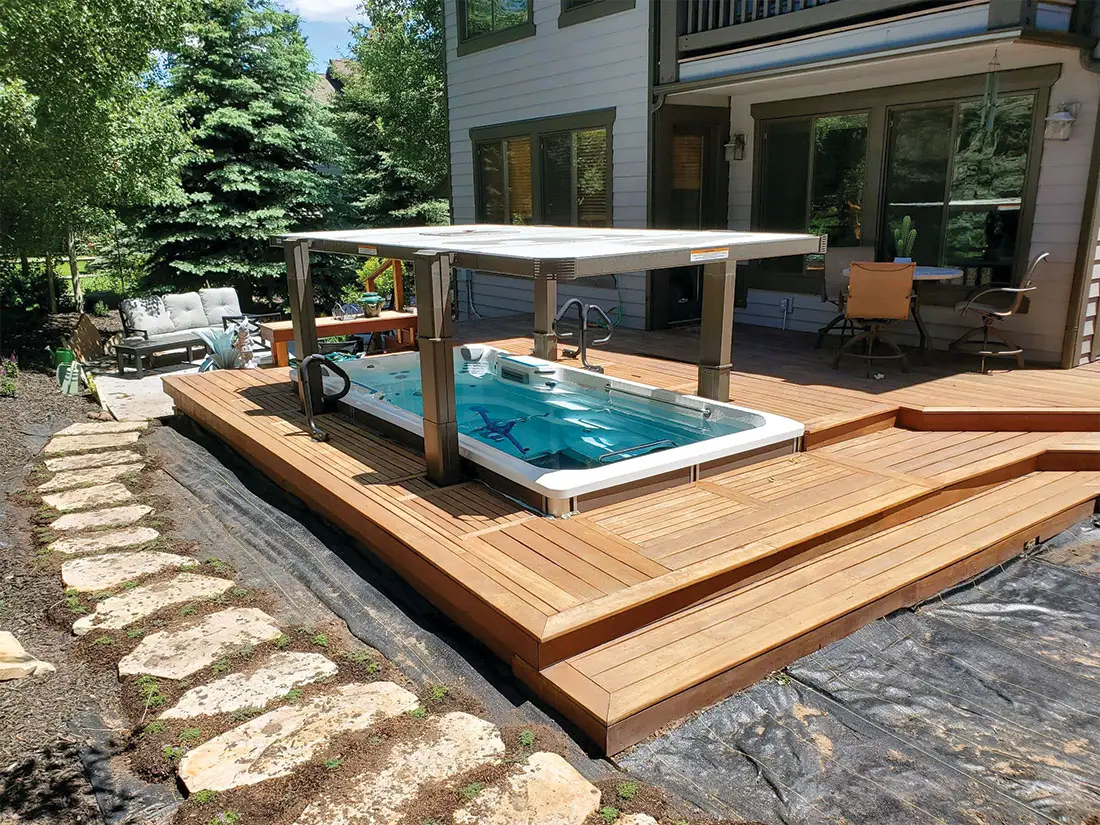 Spas can also help with relaxation and mindfulness. "The benefits of hot water hydrotherapy are endless," says Knaub. "Starts with a morning soak and a cup of coffee to get your mind right then an evening soak to relax those tired bones, helping you sleep better!"
He adds that Diamond Spas is also able to customize seats and seating styles. "Along with custom jet placement, we have the ability to design a personal soaking experience like no other," Knaub says.
At the other end of the temperature spectrum are cold-water plunge pools, which Wang says he's been getting a lot of requests for from clients. According to Diamond Spas, there are many health benefits to cold-water plunges, like reducing swelling and inflammation and boosting the immune system.
Accessible for All
For people with limited or little mobility, pools can be wonderful ways to get exercise and feel weightless in the water. But disabled people who use wheelchairs, walkers, crutches, and other mobility aids often encounter access obstacles, from steps into the pool or slippery surfaces. 
That's why accessible features are so important for pools to function as well for disabled people as they do for able-bodied people. While Americans with Disabilities Act (ADA)-compliant lifts are common features of public and commercial pools, homeowners shouldn't overlook them for backyard usage.
"Anything that is at the commercial level" can be used at home, too, Landwehr says.
Jovaag points to other accessible features like graded or zero-entry points; strengthened hand rails and grab bars; and stair risers that are adjusted to be shorter and wider: a 4-inch tread instead of an 8-inch tread and a 16- to 18-inch wide landing instead of a 12-inch landing. Wang agrees, noting that beach-style entries provide an easier way for people with mobility aids to access the water. For slippery surfaces, pool designers can use grip tape and even abrade the surface of acrylic to a rougher profile.
Designs like these also show that ADA requirements and accessible features don't have to look clinical or be add-on afterthoughts to the overall pool or spa design.
"Diamond Spas has fabricated pool vessels to meet all kinds of ADA requirements," Knaub says. "We have built wheel chair ramps, pools that use chair lifts, with the most popular vessels incorporating ADA transfer walls into the design. Transfer walls allow for a nicer, simpler design while allowing safe access for people with disabilities."
dannywang.com, diamondspas.com, endlesspools.com, underwaterglazing.com