S
Westside Pool Service was started in 1979 as a cleaning service and repair company and was then—and still is—being operated and run by president Guy Wood. In 1982, Westside built its first pool with the intention of providing a great experience for its customers by offering personal service during construction with attention to detail and the willingness to stand behind its product.
During the mid-1990s, Westside Watershapes saw a need to offer its services to a higher-level residential pool customer—those seeking a more detailed product—and sought after that market by furthering the company's education and enhancing its ability to build more complex swimming pools, while Westside Pool Service still provides weekly service to many dedicated Fort Worth residents.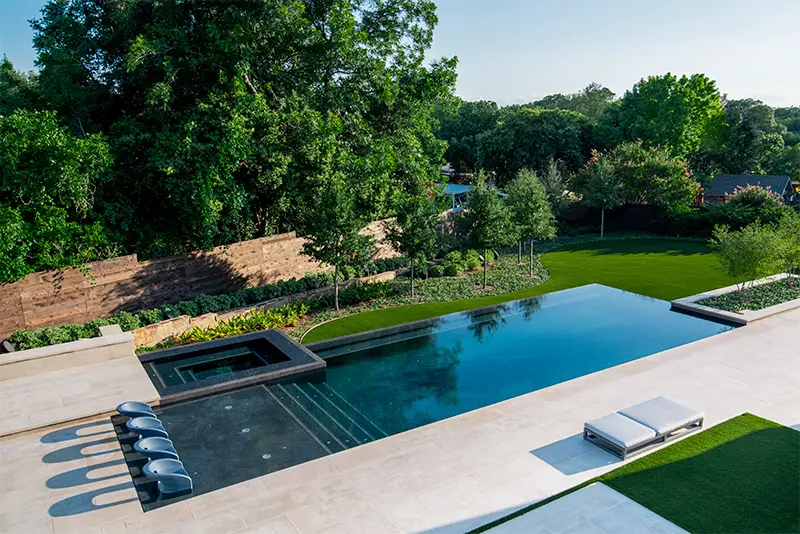 Today, Westside Watershapes designs and builds innovative and award-winning residential pools. Wood is a Verified Watershape Builder with Watershape University and an NSPF® Certified Pool/
Spa Operator®.
Westside Watershapes builds around 10-15 pools a year in Fort Worth Texas, collaborating with home builders and landscape designers. Every pool they create is a work of art, custom-made for each unique client's enjoyment. A boutique high-end custom builder of pools, specialty fountains, outdoor living areas, and hardscapes designs, all projects are crafted using only the finest available materials. And, in order to ensure each project receives unparalleled service and attention, Guy works closely with every single one of his clients.
"Our first priority is to see the client's vision. Then, using years of experience, we guide them through the process every step of the way with keen attention to the smallest of details," comments Guy.
Simply put, Westside Watershapes has a commitment to provide unparalleled customer experience, while delivering unique and innovative designs using top tier craftsman and superior materials.
Photography by Audrey O'Donnell
Westside Watershapes
VERIFIED WATERSHAPE BUILDER,
NSPF® CERTIFIED POOL/SPA OPERATOR®
MEMBER of CARECRAFT


9617 Santa Paula Drive
Fort Worth, TX 76116
817-560-0081

westsidewatershapes.com
In Business Since 1979
Designs 10-15 Pools per Year
Service Area: Texas