Studying architecture and engineering at the University of Missouri fascinated former competitive swimmer Brad Renken. He was enamored with the complexity of structure, the artistry of design, and the pure of joy of creating. But sitting inside an office building in a cubicle counting doors on someone else's building plan for 10 hours a day after graduation wasn't his dream come true.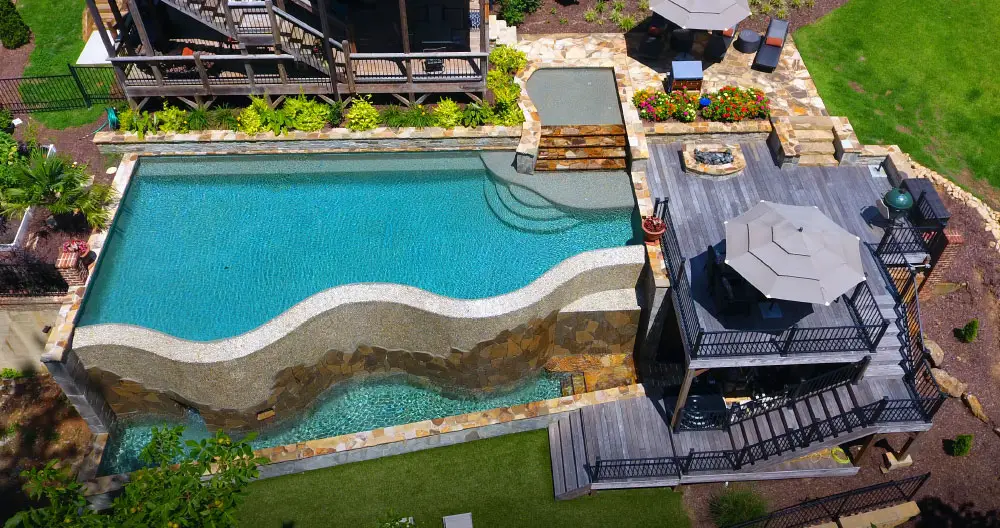 Then, he saw an ad for a pool designer position.  Renken immediately applied and found the place where his talents, skills, education, and passion aligned. Since starting in pool design in 2005, Renken has continued to learn the market, taking note of the best qualities he admired in other business professionals. In 2009, he built his own company known now as Hearthstone Luxury Pools + Outdoors.
Hearthstone Luxury Pools + Outdoors specializes in custom-designed pools and outdoors spaces including water features, fire pits and outdoor kitchens, that not only look good but match the architecture of the house, the lay of the landscape, and the goals of the homeowner.
"I'd say what sets us apart from our competitors is that we, as a small business, work closely with our clients, first addressing their hopes and dreams for their outdoor spaces," comments Renken. "You have to ask the right questions. Clients will always tell you their solutions but rarely tell you their problems. For example, a client may say, 'I want a rectangle pool.' Ninety percent of builders will build them a rectangle pool. But if you ask the right questions, you might discover that they want to swim laps and think that their options are limited despite the fact that they prefer the aesthetic of a freeform design. I love to see their faces when I tell them that they can have both."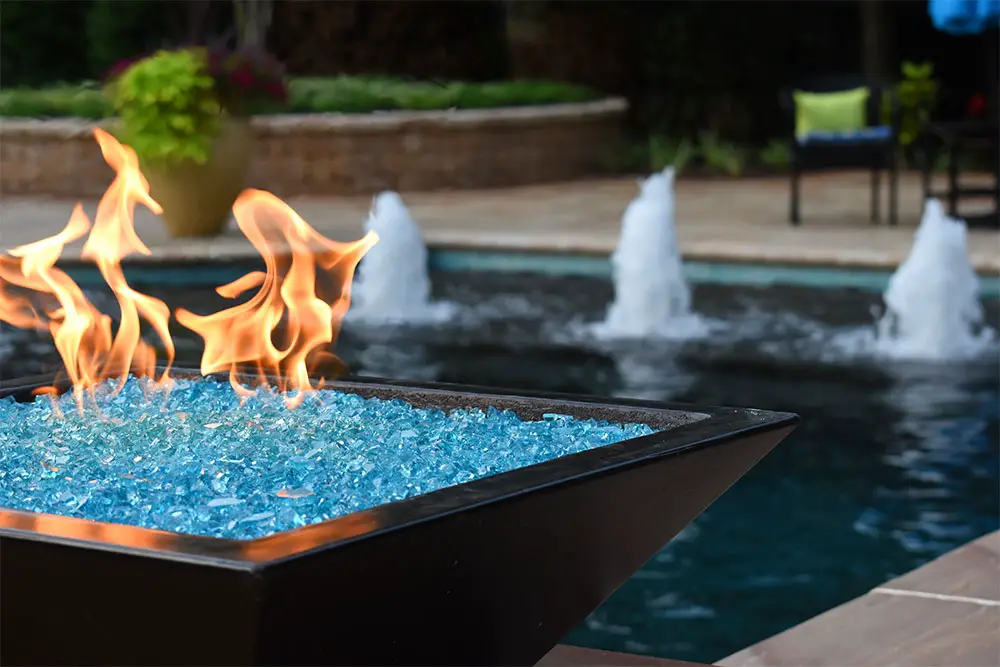 Hearthstone Luxury Pools + Outdoors enjoys the challenge of building the pools of dreams, those that other builders say can't be done. They've worked with steep yards and hillsides, built on the side of mountains, and created cozy get-away-spaces for clients whose backyards previously had no privacy.  They've carved dinosaur bones and stalactites into the roofs of grottos, used pebbles on the side of a vanishing edge to mirror a nearby mountain range, and created a swim-in cave underneath a pool.
"We truly enjoy creating special one-of-a-kind outdoor spaces that homeowners will love and be proud to show their friends," Renken says. "My interest in architecture has given me the tools to integrate artistry and creativity with the reality of what is possible and to thoughtfully craft quality spaces that are a pleasure to live in."
Since founding the company, Renken's father, Jim Renken, has come on board to run operations. This family-run business is committed to honesty, integrity, and a genuine desire to help their clients love their homes more than they believed possible. Hearthstone gets its name from the fireplace hearth, the traditional center of the home, a place of warmth and life, the very hope they have for the outdoor spaces that they build.
Hearthstone Luxury Pools + Outdoors


MEMBER OF AMERICAN INSTITUTE OF ARCHITECTS, POOL AND HOT TUB ALLIANCE, AND CERTIFIED BUILDING PROFESSIONAL

519 Cobb Pkwy N,
Marietta, GA 30062
678-648-2662
hslpools.com
home@hslpools.com

In business for 10 years
Builds and designs 20 pools per year
Service Areas: Georgia