A custom water fountain can dramatically enhance the visual appeal of your home and landscape. Placed in a courtyard garden, at your home's front entrance, on the backyard terrace, or incorporated into your luxury pool, a fountain adds a captivating focal point that engages the senses with the soothing sound and sight of its cascade.
The five outdoor fountains below range in size, shape, and design—from a Mediterranean masterpiece to a tropical attraction to a bubbling showpiece–but each is a delightful charm that brings stunning drama to the settings in which it sits.
Wish you had one of these water fountains in your landscape? Tell us in the comments below!
1. Mediterranean Masterpiece
A striking statement all its own, this custom-built three-tier water fountain brilliantly accents the home's stately architecture and landscape. The fountain's exterior surface features the same white travertine tiles as the patio, giving its gorgeous sapphire blue interior the attention it deserves. Notice how each tier of the fountain takes on a different form, yet they all gracefully flow together.
Photography by Blake Corcoran; landscape architect: BLV Enterprises, Inc.
2. Serene Sanctuary
Nestled among fern masses and hardwood trees, this statuesque fountain has an enchanting aura that makes you feel as though you've entered a magical oasis far away from the ordinary world.
A mix of moss-covered red bricks and stone were used to craft the fountain's two pond basins and masonry columns and give it an aged appearance. The fountain also features an antique bronze statue, cost-iron planters, fiber-optic lighting, and a variety of copper drip heads that create dazzling movement of water up, down, and around the fountain.
3. Shimmering Spectacle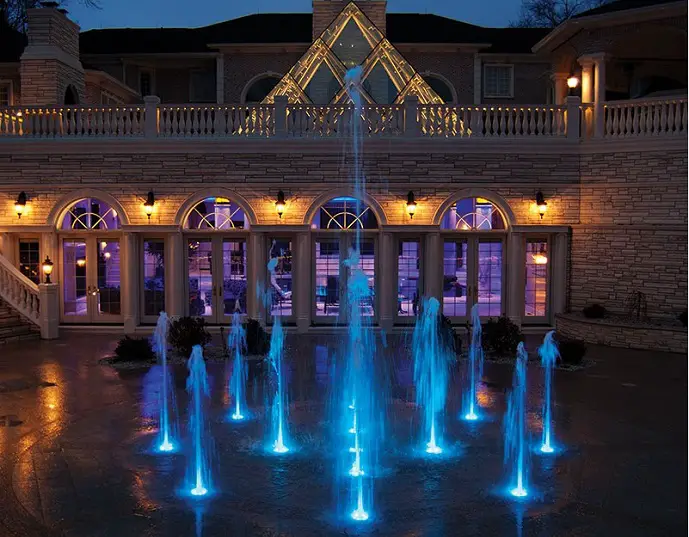 A grand home calls for a grand showpiece. Thirteen streaming geysers of heated water make up this elaborate splash pad fountain. Every night, the homeowners are treated to an entertaining—and interactive!—light show, right their own backyard.
Photography by Chris Nelson
4. Fountain with Flare
An automated fire bowl crowns this elevated poolside fountain, which is illuminated by a color-changing LED lighting system. The addition of fire gives the fountain a dramatic evening ambiance and exciting allure. As the flames dance across the fire bowl, they are reflected in the fountain's flowing sheets of water, creating a unique and mesmerizing visual.
Photography courtesy of Blue Haven Pools & Spas
5. Opulent Entrance
Situated in the front courtyard, this traditional- style fountain is both an elegant focal point and the perfect introduction to the magnificent home set behind it. Water cascades down the ornate tiered centerpiece before spilling into the large concrete basin. The purple slate tiles that line the basin's interior coordinate with the violet shingles on the roof, creating a harmonious connection between the two showpieces.
Photography courtesy of Platinum Poolcare, Ltd., Wheeling, IL; photography by Outvision Photography