Outdoor fireplaces and fire pits continue to be popular design features in outdoor rooms, and for good reason: they provide a warm and inviting ambiance for outdoor gatherings, add a stunning focal point to the patio (even when not in use), offer additional lighting at night, and allow you to enjoy the pleasures of outdoor living well before summer arrives and long after it departs.

Options For Adding a Fire Feature To Your Yard
Unique Landscapes with some tips on adding a fire feature to your yard.
Outdoor fireplaces and fire pits can be designed in a number of ways and made of various materials, including stone, brick, stucco, tile, and concrete, to complement any style pool, patio, or outdoor room. If we've "sparked" your interest in adding one of these opulent features to your outdoor living space, take a look at the beautiful outdoor fireplaces and fire pits below to gather design ideas for your own outdoor hearth.
Natural Stone Fireplace
The large stone outdoor fireplace adds rustic charm and warmth to the patio, making it an inviting place for family and friends to gather after spending the day in the pool.
The two poolside fire pit features serve as decorative accents and provide a captivating display as their flickering flames reflect off the water.
Photo courtesy of Blue Haven Pools & Spas
---
Double Sided Fireplace
Nothing does a better job of transforming a backyard patio into an outdoor room than a fireplace. A double-sided design allows you to enjoy the heat and glow of the fire from both sides.
Classically simple, this custom stone outdoor fireplace creates a beautiful focal point that entices guests to relax and take a seat on the comfy outdoor furniture surrounding it. A wood pergola creates a "ceiling" while the weatherproof TV brings the rest of the family room to the outdoors.
See more photos of this cozy outdoor room by All Seasons Pools, Spas, and Outdoor Living, Orland Park, IL >>
---
Brick Fireplace
A traditional brick outdoor fireplace adds textural interest to this poolside patio. The fireplace's distressed red bricks stand in beautiful contrast to the pool's smooth gray surface and also give the patio a casual, laid-back vibe.
By enclosing the outdoor fireplace and seating area with a wrought iron pergola, the open setting becomes more intimate and encourages conversation when entertaining.
View the company profile and photo gallery for Custom Pool Concepts >>
---
Modern Low Profile Fireplace
Even with a sleek and modern design, an outdoor fireplace brings an element of coziness to the patio.
This stone outdoor fireplace's rectangular low profile design works in harmony with the pool's and outdoor room's chic and contemporary style. It also allots full view of the landscape as guests relax and enjoy the warm glow of the fire.
See more luxury pools and outdoor rooms by Cipriano Custom Swimming Pools and Landscaping >>
---
Linear Fireplace &  In-Pool Fire Pits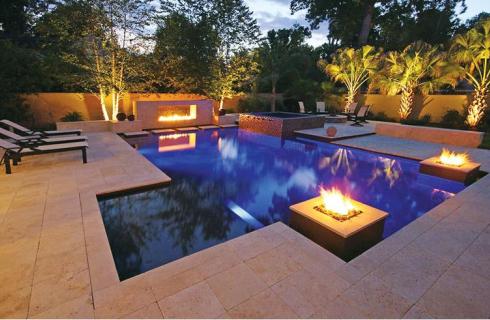 Outdoor fireplaces and fire pits can dramatically enhance the look of an outdoor space, as this striking poolscape demonstrates.
This pool defines elegance and tranquility and is a marvel of geometric shapes. The two square in-pool fire pits add an exciting accent to the pool's entrance while the open linear fireplace lures swimmers to the deep end. Paired with strategic uplighting on the surrounding palm trees and other landscaping, these modern fire features bring the pool to life at night.
Photo courtesy of Pools by John Clarkson, an Aquatech Builder; Photography by Ben Brewer Photography
---
Stacked Stone Fireplace
Nestled by the pool, an outdoor fireplace helps ease the chill during evening dips.
With the fire's mesmerizing glow and relaxing crackle in the background, you may find yourself spending many more nights in the pool.
Photo courtesy of Liquid Design, LLC, Cherry Hill, NJ
---
Built-in Stone Fire Pit
A large built-in stone fire pit creates a great centerpiece for the patio and becomes the prime destination on cool summer nights.
Whether you're adding a built-in fire pit or outdoor fireplace to the patio, be sure there is plenty of space around the hearth for comfortable seating. A large deep-seating patio set with side tables and ottomans provides ample seating options and a place for guests to rest their drink.
Photo Courtesy of Pools by John Clarkson, an Aquatech Builder; Photography by Ben Brewer Photography
---
Linear Fire Bar
Even in the desert, fire has an enthralling allure.
In this open backyard patio, a linear fire pit bar was built into the side of the custom concrete spa, creating an intimate space for socializing and a serene place to enjoy the scenery.
Photo Courtesy of Cimarron Circle Construction, an Aquatech Builder