Caves and grottos create a sense of mystery in your pool, hinting at a secluded entryway that's just begging to be discovered. Surrounded by rockwork, waterfalls, colored lights, and more, caves offer a unique space to relax and cool off in the shade. They can be as extravagant as a multi-room cave or as cozy as a loveseat tucked behind a tropical waterfall. To showcase a variety of caves and grottos, we talked to three different pool builders about their amazing poolside hideaways.
Multi-Room Cave
Pool builder and designer Kelly Caviness, president and founder of Caviness Landscape Design, Edmond, Okla., is no stranger to spectacular grottos. Among his many creations, it's the 900-square-foot grotto that will leave you wondering how this fantastic structure became a reality. The grotto is a part of a large lagoon-style pool that was renovated to include a beach entry, stone step-outs, and water features. Inspired by a recent trip to Africa, the homeowners desired a natural theme for the pool's new design, complete with waterfalls and unique features.
"The grotto is made of faux rock, reinforced with steel, and stained to match the color of the surrounding natural boulders," says Caviness. "Because the grotto was so large, we designed multiple entry points from the pool and a dry entrance from the patio."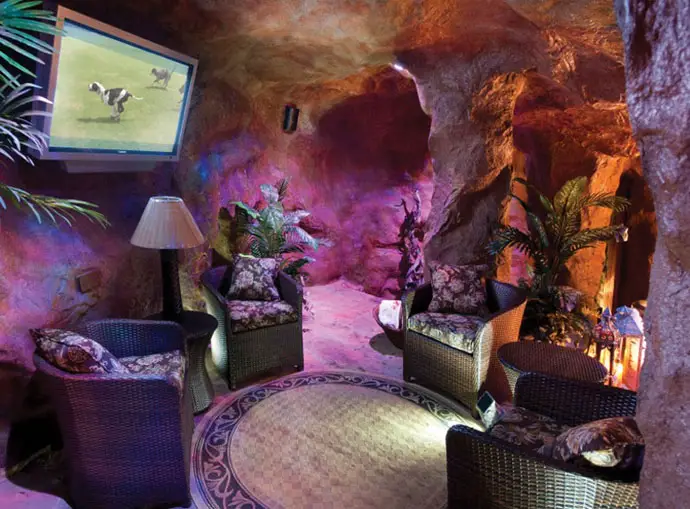 As you swim into the cave via one of its three waterfalls, you can take a seat on one of the four bar stools at the swim-up bar. On the other side of the bar is an outdoor kitchen featuring a refrigerator, margarita machine, icemaker, and sink, with a restroom behind a hidden faux rock door. Behind the kitchen is a sitting room complete with cushioned chairs, a large plasma TV (viewable from the bar), and sound system that can connect with outdoor speakers scattered throughout the multiple entertainment/ patio areas. The wooden door off the side of the room functions like a secret passageway with a stone staircase that exits to the rest of the yard. The entire space creates an enchanted outdoor living experience.
"Grottos are becoming more popular because they create a mystery as far as 'What is behind the waterfall?'" says Caviness. "It gives the homeowner, friends, and family—whether they are swimming or not—a way to interact with the pool area because of the wet and dry entertainment areas."
Next to the grotto is a massive waterfall built from over 70 tons of natural Oklahoma moss-covered boulders. Another natural boulder waterfall cascades from the rear side of the grotto into a 260-foot-long streamed.
One of the most magical aspects of this backyard wonderland is the Color Kinetic lighting system, which provides 16 different color-changing lightshows. The pool, waterfalls, and lighting are controlled by a remote, allowing the homeowners to change the look and feel of the pool as often as they wish.
Cave Room with Spa
Caves also make a dramatic enclosure for a spa. Imagine being able to escape to a whole new world without ever leaving your property. That's exactly what Bob Shehan, vice president, innovative water features and attractions, Shehan Pools, Florence, Ky., did when he built a 12,000-square-foot atrium featuring an indoor pool, 10,000-gallon saltwater aquarium, an open sitting area, a separate Zen-like living room, and a cave with a spa.
"The homeowners entertain a lot and like having all these different areas," says Shehan. "To access the cave, they can swim through the waterfall or walk through the 40-foot tunnel that was cut out of faux sandstone." The cave also features a TV, sound system, fog system, and multi-colored fiber-optic lighting in the ceiling, making it the ultimate place for both relaxation and entertainment.
"Caves are a good fit for a natural style pool like this one, where we used large faux rock boulders. However, we've done more formal grotto applications, which may have a different type of stone," says Shehan. All of the rockwork used in this project is faux rock made by Shehan Pools.
Complete with a beach entry, artificial palm trees, and a waterslide above the grotto, this backyard addition has almost everything you could want in a resort-like retreat. "We specialize in these types of environments. We've done numerous grottos, and they've become more popular in the last 10 years."­
Waterfall Grotto
You may see a large waterfall on many pools and not even realize a grotto is hidden behind it. Grottos may include a bench or loveseat where you can sit and view the water falling in front of you. They can also feature fiber-optic lighting, a sound system, and hydrotherapy jets, like this project by Concord Pools & Spas, Latham, N.Y. "The grotto is built with and supported by fossil-bearing limestone boulders, resting on over 50 yards of structural concrete footings," says Mike Giovanone, president and CEO of Concord Pools & Spas.
"A swim-in grotto like this one costs about $10,000. Grottos require a proper foundation (independent footings), more square footage (they're typically 4 – 5 feet wide), and more construction equipment than a waterfall alone. A rock waterfall without a grotto costs $3,000 – $4,000 since the water can just be cascaded over the rock," says Giovanone.
This particular grotto was inspired by one seen at a resort visited by the homeowner. The lighting in and around the grotto, vinyl-lined pool, and spillover spa can all be controlled independently. This allows the homeowners to change the colors on each feature for a lively effect or only light up certain features for something more dramatic. Between the custom 20-foot waterslide and the waterfall grotto, this project offers a great deal of fun, mystery, and excitement.