If you're looking for spa design ideas, there are many possibilities for unique custom designs, especially if you are looking for pool and spa combinations. One common combination is a rectangular deck-level pool with a raised perimeter-overflow spa.
A perimeter overflow is a style of pool and spa building in which the water overflows its edges and is recycled back in the pool or spa. These pools and spas are also called 360-degree vanishing edges, because the design is equivalent to having an infinity edge on all sides and edges of the pool or spa.
Raised Perimeter-Overflow Spas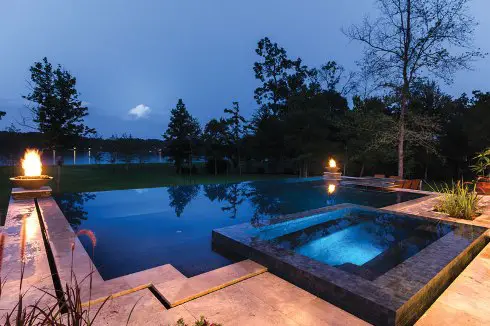 Perimeter overflows come in two styles: They can be either flush with the deck (in which the water flows into a hidden slot) or raised above the deck. A deck-level perimeter-overflow pool can resemble a mirror or flat sheet of glass, while a raised perimeter-overflow spa has a unique cube-like effect as the water overflows on all sides. This can make the water appear as if it's floating without walls.
Above: This raised perimeter-overflow spa and pool feature vibrant interior pool lighting and landscape lighting, adding drama to the setting when the sun goes down. Two fire bowls at the far edge of the pool add additional focal points.
Photography courtesy of www.ConnieAndersonPhotography.com
---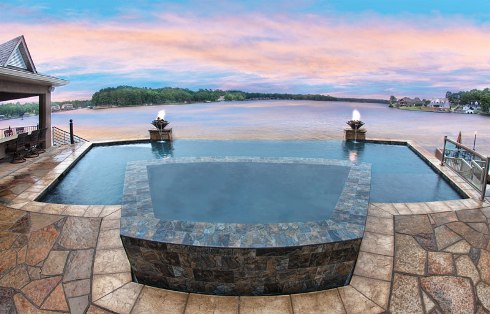 The colorful finishing materials on this spa coordinate perfectly with the decking, creating many shapes, patterns, and textures. By raising the spa above the pool and deck, the perimeter-overflow spa becomes a water feature in itself. The two Grand Effects fire bowls at the end of the pool add a touch of drama to this already stunning view.
Photo courtesy of Elite Pools by Scott, Little Rock, AR ; Cunningham Photography
---
All-Tile Raised Perimeter-Overflow Spas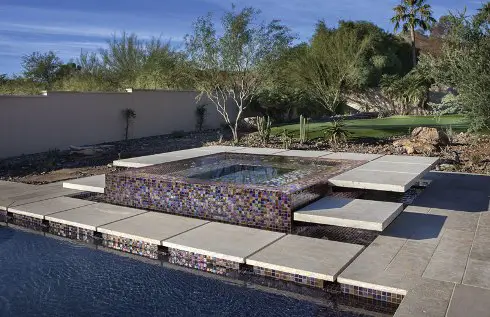 Many raised perimeter-overflow spas are finished in all glass tile. This creates a brilliant luster in the sunlight and can be further enhanced by pool lighting during the evening.
This raised perimeter-overflow spa is finished with a custom blend of Lightstreams multi-colored glass tile, which also adorns the sides of the surrounding Texas limestone slabs. The spa features three levels of seating designed specifically for each family member.
Photo courtesy of Michael Woodall
---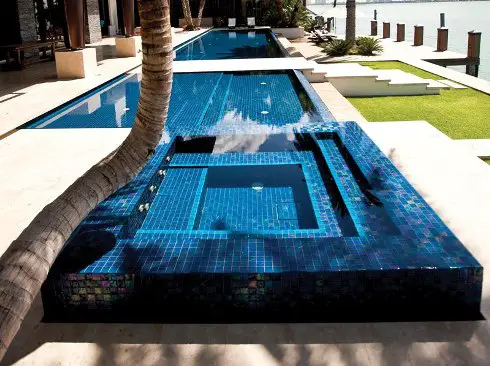 Both the perimeter-overflow pool and spa pictured here are finished with exquisite Lightstreams glass tile in peacock blue. The tile produces brilliant iridescent reflections as the sun filters through the palms.
Pool Builder: Regency Pools, Plantation, Florida. Architect: Todd Tragash, AIA, STA Architectural Group, Miami, Florida; Photographer: Matthew Pace