From flowing falls to fluent fountains, water features are being used in innovative ways to bring life, movement, and beauty to outdoor living spaces.
"Water features become the focal points because they are aesthetically pleasing to the eyes and the ears," says Dave Rhodes, a design sales specialist for Geremia Pools & Landscaping in Sacramento, California.
Photo by Dee Geremia
A mountainside party oasis by MPG member Geremia Pools & Landscaping features an illuminated pool, a raised spa, and a swim-up bar with a fountain lounge shelf.
Geremia, a fourth-generation family-run design/build company established in 1922, is a founding member of the Master Pools Guild (MPG) and was the winner of a 2017 Tiffany Trophy for a geometric pool in El Dorado Hills, California that featured a wall with three falls that delivered sheer descents of water elegantly via scuppers
"The sound of water is tranquil and calming," he says. "It brings a Zen-like quality to the space."
Besides which, he adds, "a pool is flat and static without a water feature."
An increasingly popular amenity, the company offers a variety of water features for pools and landscapes—from simple and understated to elaborate and dramatic:
Deck jets, which often are illuminated with white or colored LED lights, are water dancers that shoot slim archways of water into the pool.
Photo by Dee Geremia
Geremia Pools & Landscaping in Sacramento, California, won a 2017 Tiffany Trophy from MPG for this geometric pool with a wall water feature.
Fountains, available in a variety of styles, float like magic in the pool or spill water into it.
Fire bowls shoot flames out of their tops and water out of their spouts.
Infinity pools, which literally blur the boundaries between water, earth and sky, allow water to flow rhythmically over their edges, creating the illusion that that beginning and end blend.
Photo by Dee Geremia
A small condo space, designed by Geremia Pools & Landscaping, becomes a water-filled oasis with sheer descents and calming lighting.
Sheer spills or sheer descents, which form arcs as they flow from the pool wall, are a tamer variety of waterfall. Their size varies, and they generally are mounted flush with a top surface.
Spillover spas, raised above the pool, spill water back into it.
Water walls, ideal for small spaces or as an introduction to areas like courtyards, feature streams that trickle down their surfaces.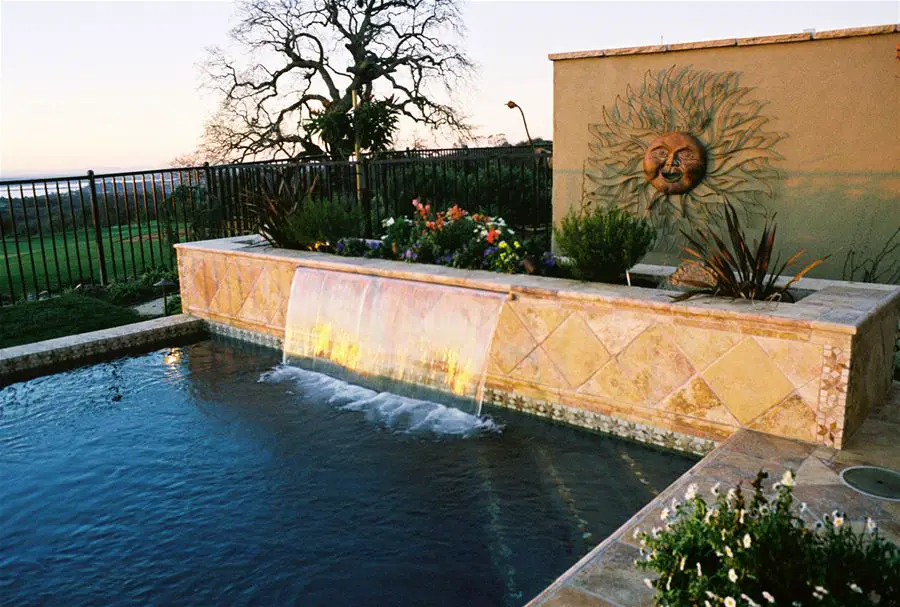 Photo by Dee Geremia
A sheer descent flowing into a pool sets the tranquil mood in a project by Geremia Pools & Landscaping.
Waterfalls and bubbling creeks, sometimes paired with real or faux boulders, bring nature into the backyard.
Water slides, for children and adventurous adults, allow swimmers to plunge into the pool.
"There's no one feature that is the most popular," Rhodes says, adding that most of Geremia's projects are modern in style and incorporate features that look like sheer sheets of water. "The choices depend on the client's needs and the project site."
Deck jets dance across the water in a project by Geremia Pools & Landscaping.
A family who lived in the middle of a city, for instance, wanted to create a lush green oasis so Geremia's Ray Schwartz designed a landscape that includes a circular stone-surrounded spa and a waterfall whose back wall is an undulating slide. The water cascades down boulders into a naturalistic pool.
"It was all about family fun and relaxation," Rhodes says.
Another client who lived on a riverbank wanted to make the best use of the small backyard space by retaining a hillside. He decided to include basalt fountains in the landscape.
Photo by Dee Geremia
Geremia Pools & Landscaping used a trio of bubbling water features to turn a pool and spa into a luxurious space.
"He chose three spires, and we flew them in to California from Idaho," Rhodes says. "This was a miraculous feat to get them into the backyard and in position because each one weighs over 3,500 pounds. We used a large Gradall lift to set them into position. The stunning result, with the ability to adjust the water flow and up lighting, satisfied his dream."
When Rhodes sits down with clients, he asks them a series of questions to determine the optimal option. "We find out what mood or effect they want to set, what water activities they plan to do and which features are think they will like," he says.
Photo by Dee Geremia
Geremia Pools & Landscaping used boulders to create a naturalistic poolscape.
With the advent of programs, such as the Structure Studios Vip3D software Rhodes uses, water features have become easier to sell because clients can see everything in 3-D.
It shows them that "when money is no object, you can do almost anything," he says.
For a project in Sacramento that had a steeply pitched hillside, Rhodes created a series of terraced waterfalls that flow into a pond. "There's an overhanging deck," he says. "The whole effect has a creek-like effect."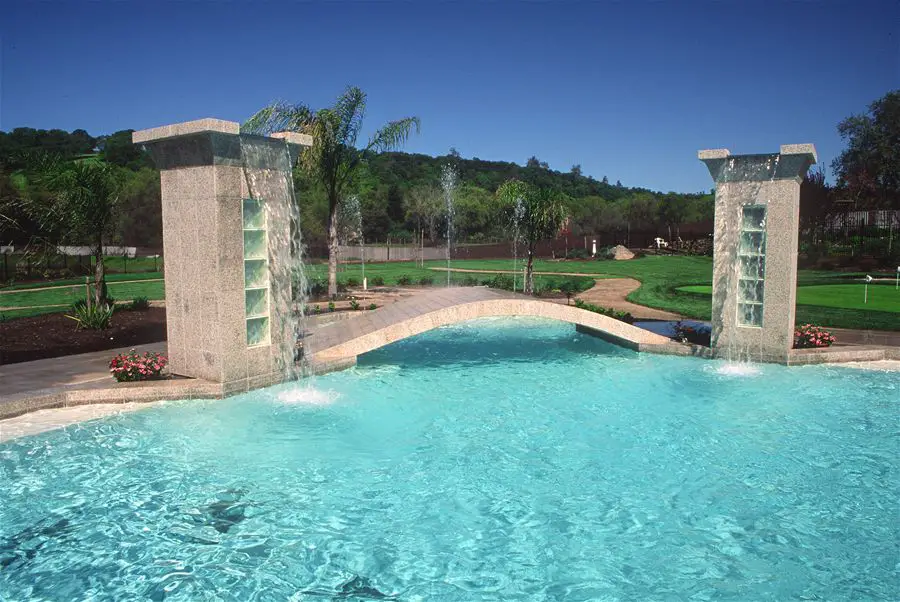 Photo by Dee Geremia
For a golf course's pool, Geremia Pools & Landscaping designed a pair of illuminated water-spouting towers and a bridge.
In another case, Geremia's Alice Mork created what she calls a "mountainside party oasis" – a shimmering lighted pool, a raised spa and a swim-up bar with a fountain and lounge shelf.  "The water feature was dynamic," she says. "It touches every aspect of relaxation and fun."
One of the more unusual projects was a pool for a golf course. "We built a beautiful water feature with a pair of illuminated towers that were connected by a bridge," Rhodes says.
Choosing the right water feature goes far beyond looks, he says. "We're always mindful of the fact that water can make a lot of sound, and in some cases, it's too much."
Photo by Dave Rhodes
Geremia Pools & Landscapes incorporated three spire-like basalt fountains in a space-constrained hillside landscape.
Geremia was called upon to turn down the volume on a project done by another company. "The owners couldn't have a conversation because the waterfall was too loud, so we tore it out, laid a patio and built a retaining wall and added some spills to solve the problem," Rhodes says.
Rhodes says water features, which constantly are being updated with the arrival of new technology, will always remain "an important part of the outdoor living experience."
Geremia Pools & Landscaping is a proud member of the Master Pools Guild. For additional resources, visit www.masterpoolsguild.com.