The interior finish of a pool can transcend its design to a whole new level of style and grace. There are many types of pool finishes to choose from, including plaster, tile, and aggregate finishes, and each type comes in an array of materials, colors, and textures—from classic white plaster, to sparkling iridescent glass tiles, to a kaleidoscopic blend of river pebbles or glass beads.
Whether you're building a new inground pool or starting a pool renovation project, the pool finish you choose will have a significant impact on your pool's final design aesthetic. Explore the different pool finish options below to find out which options will best suit your needs and design aspirations.
---
Plaster Finishes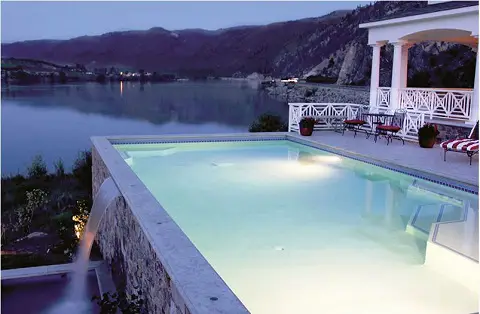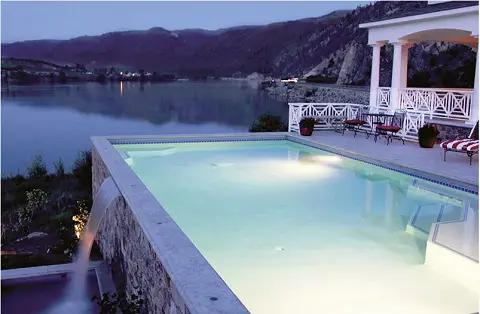 Plaster is the oldest and most common pool surface finish. It is a simple mixture of water, Portland cement, and either marble dust or silica sand.
Traditional white plaster (or marcite) gives pools a smooth, classic appearance and remains a popular choice despite the range of pool finishes that have emerged over the years. White plaster is the most inexpensive pool finish option and typically lasts five to seven years before any signs of etching or chipping appear.
Above: The pool's white plaster finish reflects light around the inside of the pool, creating a brilliant, light blue glow. Krisco Aquatech Pools, an Aquatech member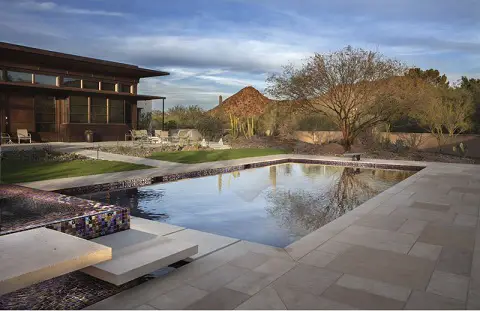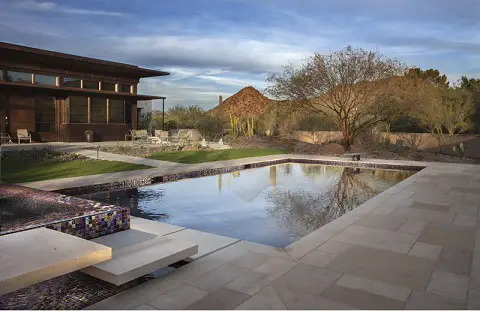 Plaster can also be mixed with colored pigments or dyes to give more dimension and drama to the poolscape. The most popular colored plaster pool finish is medium grey, which gives the pool's water an enticing blue tint.
Darker plaster colors, including deeper shades of grey and black, add depth to the pool and enhance the water's reflective quality. A dark plaster pool finish is often used to give the appearance of a natural lake or pond. It also creates a stunning effect where the pool acts like a mirror, reflecting the surrounding landscape or architecture.
Above: A combination of purple plaster and glass tiles were used to merge this bold pool design with its striking desert setting. The purple plaster gives the pool a deep blue hue, which plays off the deep burgundy red presented in the nearby mountains. Red Rock Pools & Spas; photography by Michael Woodall
---
Aggregate Finishes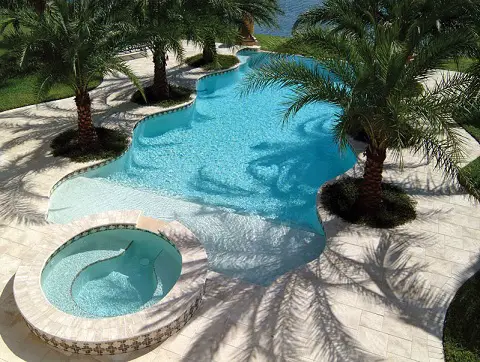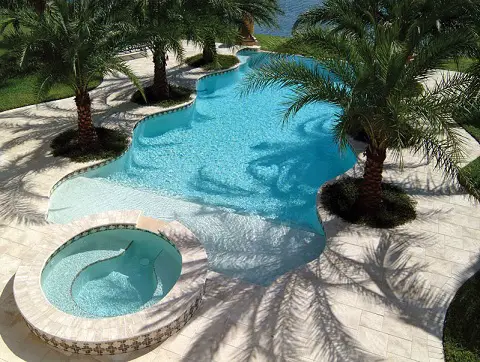 Aggregate pool finishes are the new generation of plaster pool surfaces. They consist of white or colored plaster mixed with small pieces of quartz, granite, river stones, or glass beads. Aggregates come in two forms: polished and exposed.
Aggregate finishes are becoming more popular and desirable because they provide a luxurious pool surface that is harder and more resistant to chemicals and staining than plaster alone. They also offer an array of beautiful colors and textures and can be custom blended to create a truly one-of-a-kind pool look.
Above: A polished colored quartz finish was used to give this tropical pool its brilliant aqua blue interior. Essig Pools; designed by Michele Sherman
---
Polished Aggregates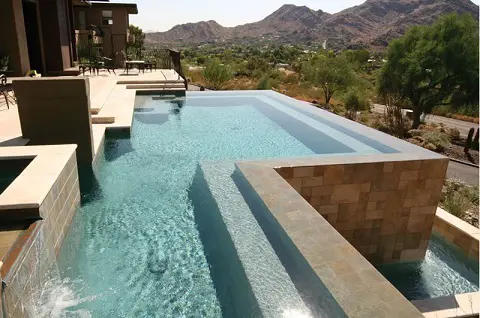 Polished aggregate finishes contain finely crushed colored stones, such as quartz, granite, or marble. After the aggregate finish is hand applied with a trowel to the pool shell, it is polished to bring out the stone's luster and create a smooth surface. The flecks of colored quartz or granite give the pool finish a decorative sheen and extend the life of the plaster to 12 to 20 years. Polished aggregate finishes have a timeless beauty that works well with classic pool designs.
Above: A polished marble finish gives this pool a smooth and even luster. HydroScapes, LLC; Photography courtesy of Scott Sandler
---
Exposed Aggregates
Exposed aggregate finishes contain tiny river pebbles or glass beads. As with polished aggregate finishes, exposed aggregate finishes are hand applied by trained craftsmen. However, once the application is complete (and while the surface is still wet), the finish is power washed with a mixture of water and muriatic acid to remove the top layer of concrete and expose the colored pebbles or glass beads within.
The exposed aggregates in the plaster add traction to the pool surface and come in various sizes and colors, which allows for a range of textures and color combinations.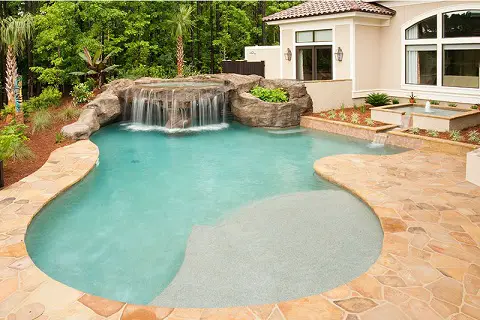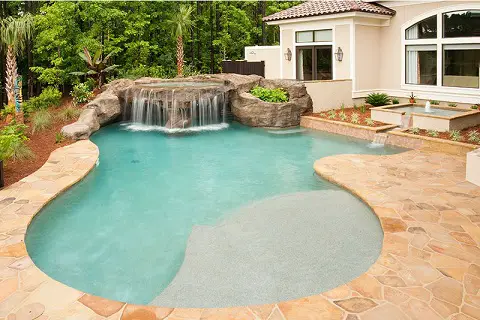 Pebble finishes have a more rustic look and complement natural surroundings; they are often used for tropical or lagoon-style pool designs.
Right: The pool's pebble aggregate finish lends the look and feel of white sand to the beach entry yet deepens to an island blue hue as the pool's depth increases. Designed and built by Year Round Pool Co., Inc.; Photography by Rob Kaufman Photography.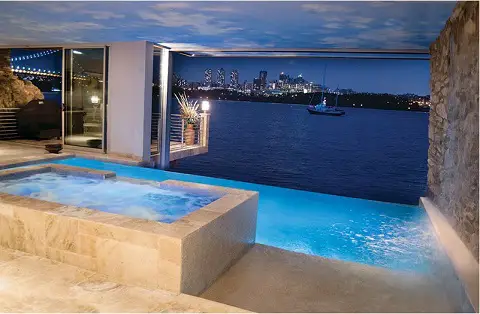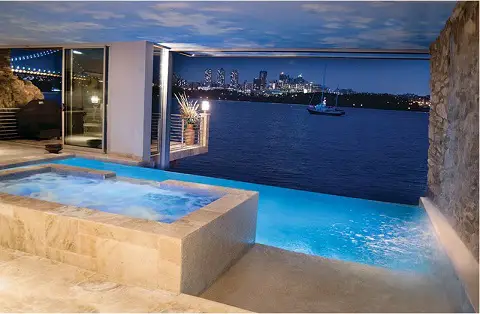 Glass bead finishes catch the sparkle of the sunlight and give the pool surface a three-dimensional effect. A glass bead finish will add beautiful elegance to any pool design but are best for enhancing the visual effect of contemporary or modern pool environments.
Right: It's tough to determine what part of this vanishing-edge pool is more breathtaking: the spectacular view of Manhattan or the dazzling glass bead finish. B&B Pool and Spa Center; Photography by Chris Nelson
---
Tile Finishes
Tile is one of the most durable pool finishes and offers an array of design possibilities. Tiles are often applied to the pool's waterline, floor, or steps to provide a colorful accent; they can also be used to finish the total interior of a pool. Tile's glossy appearance makes the most of water's reflective properties and are adored for the artistic look and upscale glamour they lend to pool designs and other watershapes.
Though tile is the most expensive type of pool finish and takes longer to install than plaster and aggregate finishes, it is the longest lasting pool surface. With proper application and minimal maintenance, tiles should never need to be replaced.
Tile pool finishes include ceramic, porcelain, glass and stone tiles. All pool tiles come in a vast selection of shapes, styles, colors, and sizes, offering virtually endless combinations and designs.
---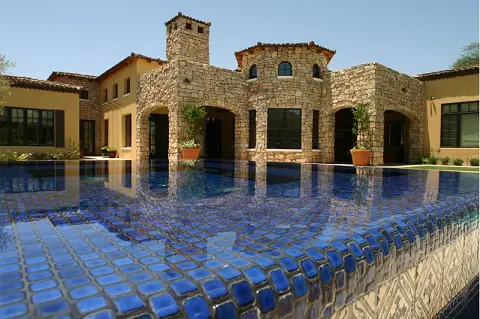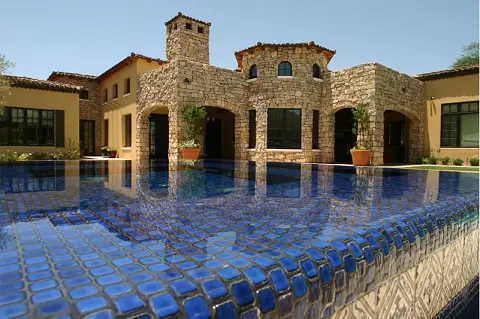 Ceramic and Porcelain Tile
Ceramic and porcelain tile are the most popular and least expensive tile pool finish. A number of ornate patterns and mosaics—from whimsical fish to flowers to Art Deco graphics to Mediterranean motifs—can be hand painted on ceramic pool tiles for a bold and unique look.
Right: The bright blue porcelain tiles complement the home's Mediterranean style and shimmer in the sunlight thanks to a silicon glaze which also makes them non-slip. Red Rock Pools & Spas; Photography by Rick Chafey
---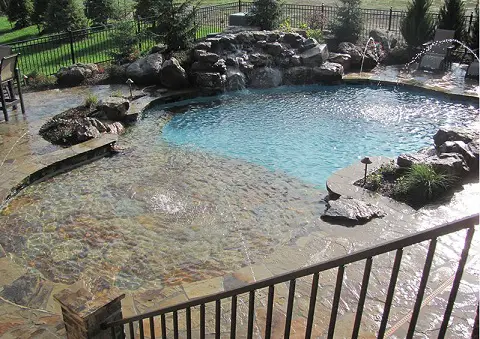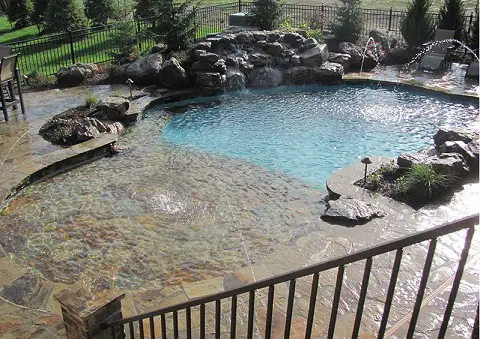 Stone Tile
Stone tile, such as granite, marble, slate, and limestone, is popular for finishing natural pool designs because they help blend the pool with the surrounding landscape.
Stone tile will also complement pools or homes with a modern architectural style.
Right: Stone tile finishes are often used to lend a natural look to beach entries and tanning ledges. Banks Pool & Spa Design; project designed by Land Art
---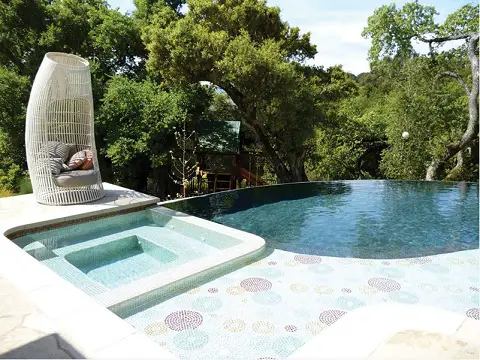 Glass Tile
Glass tile has been rising in popularity over the past few years thanks to both its resilience and mesmerizing aesthetics.
Glass tile is impervious to moisture and non-porous, so it does not erode or stain. Glass tile also has the ability to manipulate and magnify light, which gives pools a bright, clear shimmer no other tile can produce.
Right: Featuring an avant-garde design, this pool demonstrates the multitude of color, shape, and pattern combinations that can be created with tile. Creative Environments; photography by Vern Nelson, Sonoma Vistas
All of the pool finish options above will provide years of performance and dazzling beauty in a well-made and well-maintained pool. Discuss the various pool finish options with your pool builder and consider using multiple finishes throughout your pool design for a stunning, multidimensional effect.