From the ancient Roman baths to intimate plunge pools at luxury resorts, small pools have long been understatedly glamorous. But as the "bigger is better" ethos took over everything from cheeseburger meals to backyard living, small pools went by the wayside in favor of expansive poolscapes, sprawling water features, and endless outdoor amenities.
Now, though, everything classic is new again, and small pools are making a comeback, as homeowners are increasingly appreciative of the economic, ecological, and aesthetic benefits of smaller vessels. 
"We don't believe that pools need to be the size of Texas to achieve all the things that a bigger pool does," says Amy Hageman, owner and founder of Austin-based Texas Tiny Pools. "You're not sacrificing something by going smaller."
Here are four reasons why you should consider one of these small but mighty pools for your own backyard escape.

1. They're Stylish and Elegant

A small pool isn't a style downgrade. In fact, some homeowners are better able to flex their design muscles with a smaller pool and work with a luxury boutique builder on a custom project (Hageman compares it to driving a Mini Cooper). 
Colorado-based Diamond Spas regularly designs and fabricates innovative, small space aquatic vessels for its clients, working with stainless steel and copper which allows them to "be very creative in tight spaces," says design manager Shannon Knaub.
"The description I hear a lot is 'simple and elegant,'" Knaub says. "With our experienced engineers and craftsmen, we can incorporate custom intimate seating, water features, vanishing edges, along with custom freeform shapes into our 'small space' projects."
Karen Larson, president and co-founder of Soake Pools in New Hampshire, agrees, saying that clients choose their small, pre-cast plunge pools (How small? Their most popular size is 7'x13'), for many reasons, but one of them is because of how beautiful they are. 
Soake Pools have hand-tiled interior finishes of from earthy, large-format porcelain, as well as a new, high-end mosaic line. One client crafted freestanding stone walls from local fieldstone around their plunge pool for a "a simple, organic and beautifully executed design." Another surrounded theirs with bamboo for a Zen, yoga-type feeling. 
"They end up with a really beautiful luxury product," Larson says.
2. They're Space—and Yard—savers
Not everyone has a large swath of land on which to place a huge, resort-style pool, and in tight urban and suburban locales this is especially true. Hageman says Texas Tiny Pools even does a handful of front yard pools! But even homeowners who have some square footage to spare enjoy that they can get the best of both worlds with a smaller pool: A beautiful place to cool off and enjoy the water without sacrificing their entire yard.
"People are spending more time at home and they probably don't want their pool to take up their entire outdoor space," says Mike Sage, vice president of sales and marketing for Bradford Products in North Carolina, which specializes in stainless steel aquatics. "They want to be able to include things like a patio and fire pits and outdoor kitchens."  
Sage also encourages people to think about the real purpose of their pools. 
"The big pools look great, but they're in most cases, I think, significantly underutilized," he says. "People aren't swimming laps, necessarily, in their home pools."
That's why pools that are primarily for relaxation, cooling off, or even exercise, thanks to features like swim jets, can be smaller and still achieve what the homeowner wants from their outdoor space. 
3. They're Efficient and Eco-friendly
Smaller pools are often far more efficient than larger ones in a number of ways, from cost to the speed of installation to their use of resources. For instance, Hageman points out that smaller pools more efficiently and effectively move and recirculate water. They also use fewer chemicals, and homeowners often opt for sanitizing methods like UV or ozone systems.
Electricity costs are less, too. 
"We put a lot of time and energy into creating a package that allows the pool to be super-efficient so we minimize heat loss," Larson says, adding that their pools are less expensive to heat and can come with covers.
Pre-cast plunge pools are also efficient for their affordability and ease and speed of installation, says Donovan Shanahan, who works in sales and customer service for Plungie USA, a Dallas-based maker of concrete plunge pools that are typically 5' 4" deep. In fact, he estimates that a Plungie pool removes about 90% of the installation process.
"All of those inspections we have to do with the traditional pool are no longer done because we've built the pool [already]. It shows up completed," he says. "So, we will provide the engineering documents for that local municipality."


4. They're Accessible and Adaptable
Because of their size, smaller pools are especially accessible and adaptable. For instance, they're easily adapted for homeowners and users with disabilities. 
"Diamond Spas has fabricated pool vessels to meet all kinds of ADA requirements. We have built wheelchair ramps, pools that use chair lifts, with the most popular vessels incorporating ADA transfer walls into the design," Knaub says. "Transfer walls allow for a nicer, simpler design while allowing safe access for people with disabilities."
They're also easily adaptable in many ways, from adding custom spa or swim jets, to benches and sun shelves.
"If you want to swim in it, you still can with tether or a swim jet. You can do cannon balls all day long," says Shanahan. And they can even be adaptable in terms of where in the ground they're placed. 
"The cool thing about the Plungie pre-cast pool is it's able to go in the ground, out of the ground, or anything in between," Shanahan says. 
Small pools also lend themselves well to heating for year-round use.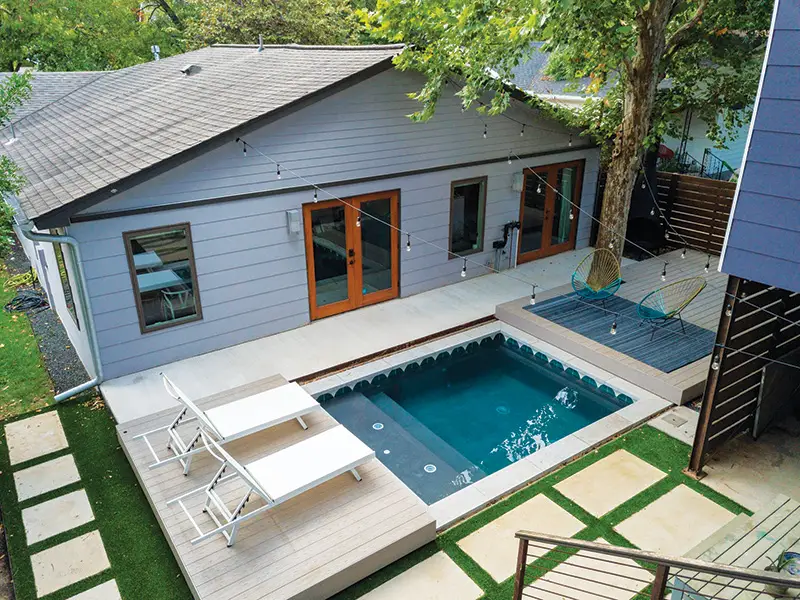 "You're not sacrificing something by going smaller, because we can heat the water. It can also be a hot tub," Hageman says. "You're extending pool season or starting it earlier."
That can be true even in colder climates. 
"One of the things that people really appreciate about our plunge pools is that they're small, so they can cool off in the summer but most of our customers keep them running all year round, even in New England," Larson says. "They use them in the winter at a warm temperature."
From their style and sophistication to their adaptability and affordability, more and more homeowners are seeing that small pools are not only just as beautiful and fun as their larger counterparts, but also align more closely with their personal values. 
"People are really digging deeper and asking themselves questions about their own lifestyle and where they're at and what it is they want to utilize this pool for," Sage says. "I think people are being a lot more thoughtful about that now than they might have been in the past."
bradfordproducts.com, diamondspas.com, soakepools.com, tinypools.com, us.plungie.com