Bryan Arnold has been in the landscape and pool industry for 20 years now.  The outdoors has been his lifelong passion.  Bryan founded Canadian Waters Construction a little over four years ago with the goal of making elegant spaces come to life with water.  The focus on Canadian Waters is full-service outdoor living construction.  As the owner and operator, Bryan personally oversees every project.  He is involved from start to finish and has been known to operate the heavy equipment from time to time.
The design focus at Canadian Waters Construction is to incorporate the features that the clients desire and need in order to achieve a functional and beautiful outdoor space.  All facets of the space are taken into consideration from elevations to the surround home and available views that can be capitalized on.  The end goal is to achieve a space that fulfills the customers wishes for many years to come with a design that will look just as nice 10 years from now as it does today. Staying on budget and keeping constant customer communication are paramount in achieving this.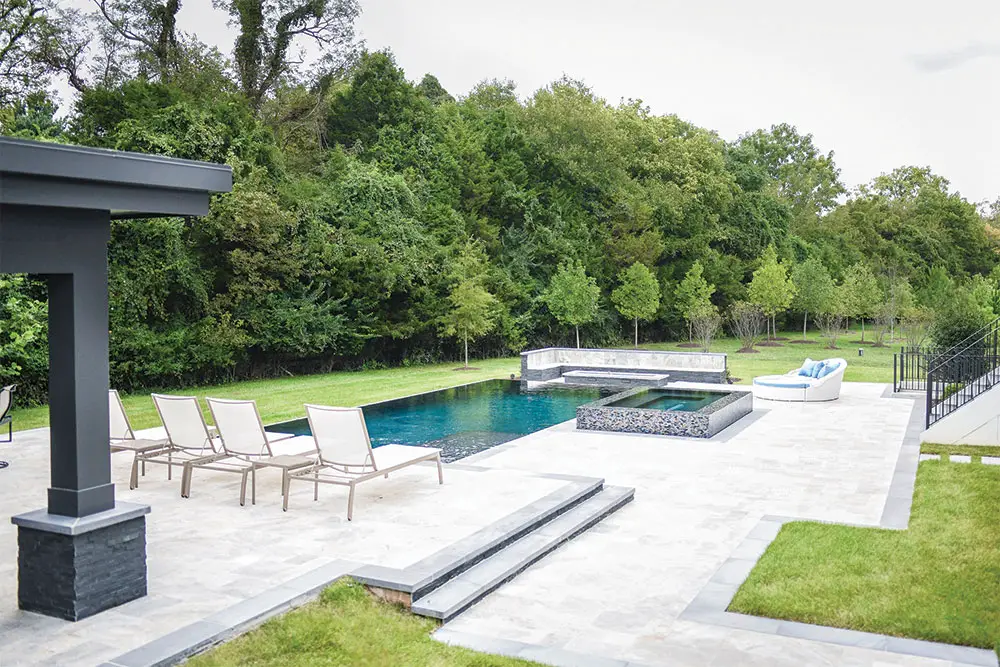 In the case of a Northern Virginia residence (Pictured right), it was critical to achieve a useable space with the large amount of elevation change occurring in the backyard.  This issue was further compounded with the requirements of the paver driveway expansion having to work with extremely low arrival and departure angles of the cars in the collection. There is an expansive open air pavilion with ceiling fans, infrared heaters, surround sound, bar seating for 12, along with all the necessary outdoor kitchen elements to entertain all day and night. The end result is a pool that not only fits in the space but takes advantage of the elevation changes to create this gorgeous view.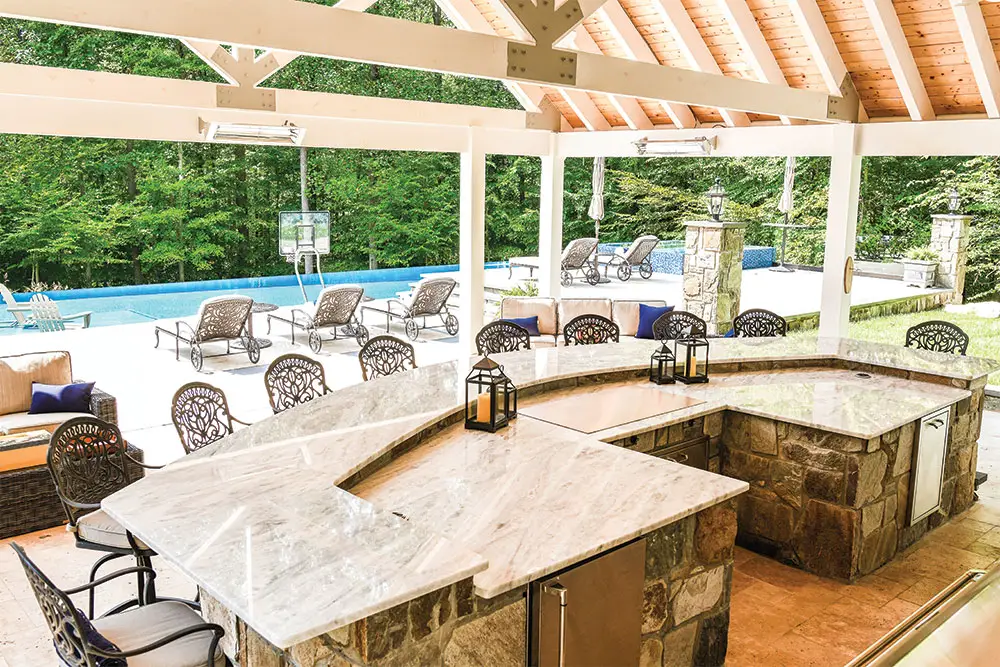 For a project in Great Falls, Virginia (pictured below), the rear yard had a slope as well and while it wasn't as extreme of a slope it still lent itself to an opportunity to create an infinity-edge pool with a lower seating area and fire pit.  The design of the pool house mirrors the look of the residence and comes with a full bathroom and lounge space with heat and air condintioning.  The covered patio space has ceiling fans, a grill and bar, and surround sound to keep the party going as long as the clients wish. Both projects feature spas that are as beautiful as they are functional. 
These two projects are just a small sampling of the abilities of Canadian Waters Construction.
Canadian waters Construction


MEMBER OF THE ASSOCIATION OF POOL & SPA PROFESSIONALS

24097 Bowmantown Road,
Aldie VA 20105
(703) 740-6312
canadianwatersconstruction@yahoo.com

In the Pool-Building Business for 4 Years
Designs 8-10 Pools per Year
Service Area: Virginia & Maryland