Since 1975, Mitchell Knapp has been the head of New Jersey's premiere landscape firm, Scenic Landscaping. Scenic spent decades designing and building elaborate hardscapes and landscapes, while subcontracting and managing the swimming pools for their clients. It started to become apparent over the years, that the attention to detail in the team's designs were not being translated in the field with outside pool contractors. Ten years ago, Knapp decided it was time to create his own pool business and bring the entire process from start to finish under one roof.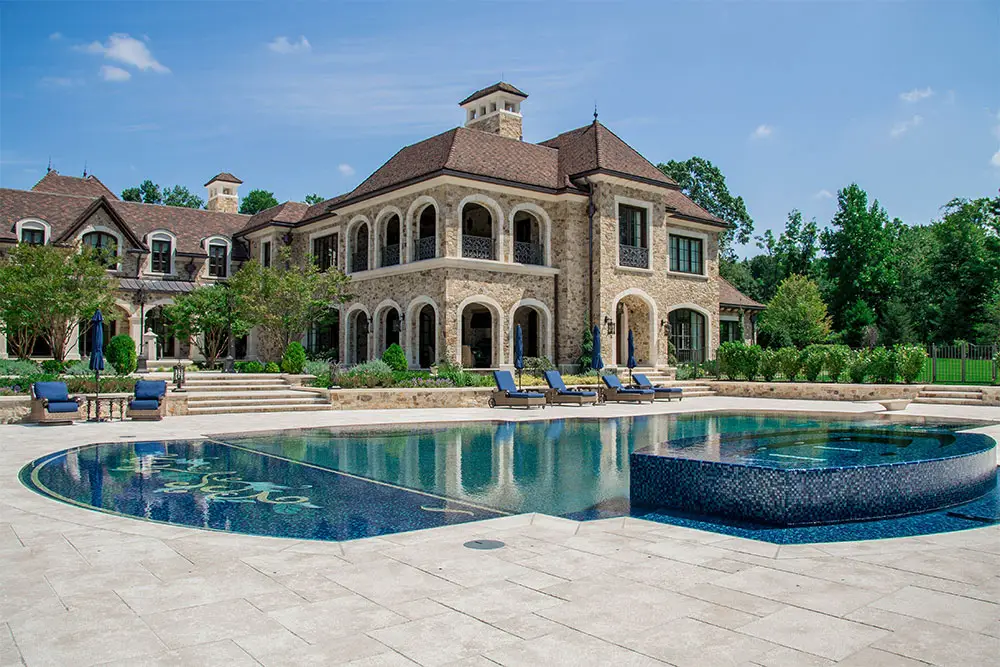 He started a new company, Tranquility Pools, to work alongside Scenic Landscaping's sister company, Tapestry Landscape Architecture. Tapestry is a team of talented and creative licensed landscape architects and designers. Scenic Landscaping executes the building and maintaining, while Tranquility handles the pools and water features.
The three businesses work collaboratively to design and build award-winning projects, for both residential and commercial properties.
"We wanted to create an experience for our clients that would be seamless." Knapp explains. "Being able to take a client through the design and build process, while dealing with one point-person proved more efficient, as well as provided peace of mind for each client. With all three companies working together under one roof, nothing
gets overlooked."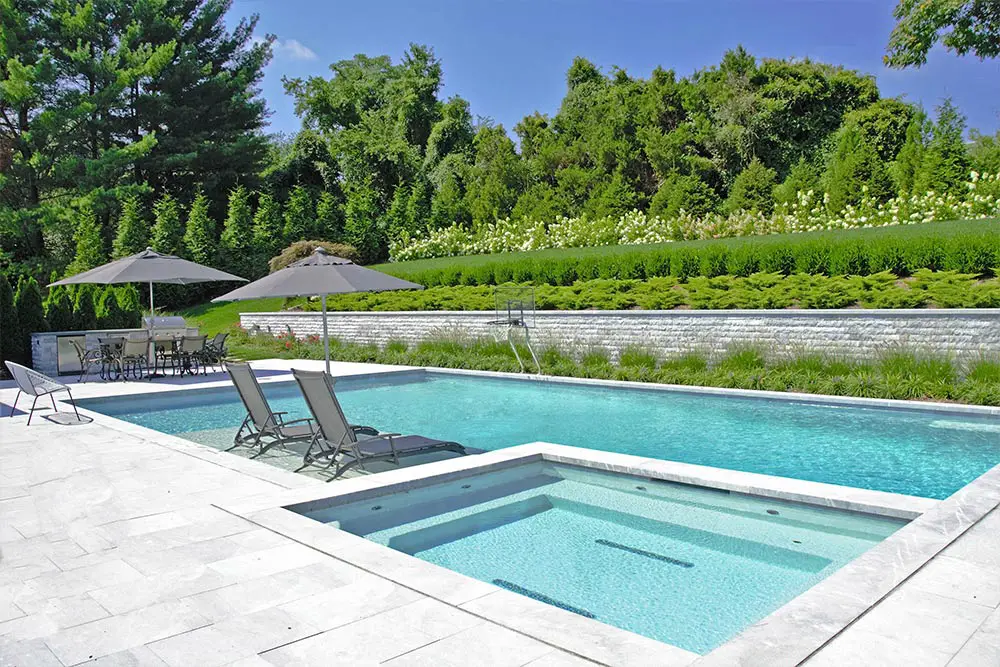 Since then—with Knapp and Richard Zimmer leading design and sales—the company has become a leading pool business in the tri-state area and a trend-setter for new designs.
"We're trying to do creative pool designs that have never been seen," says Knapp. "It's staying on that cutting edge and taking the pool to a functional limit."
He means this literally; the company pushes the boundaries not only in terms of taking fresh eyes to layout, aesthetics, and materials, but also at times redefining what's possible for pool construction.
One notable example includes a 360 degree perimeter overflow pool with a knife edge. It was a highly complex pool to build, with over 250 fiber optic star lights, and another 40 LED lights. Every inch of this pool is custom, including imported Italian glass tile, covering the entire sun shelf with a mosaic design, as well as a completely tiled spa. There is a ten-thousand gallon tank beneath the pool to accept the water displacement and keeps the pool running at all times. Not to mention six under water speakers for a completely unique experience.
"My partner and I are visionaries," says Knapp. "We've had the opportunity to create great things. A lot of times we'll say, 'Do you mind us kicking it up a notch?'"
That innovative approach has won Tranquility some 70 accolades, among them awards from both NESPA and APSP each year in business, including 2015 and 2016 APSP International Gold Awards
of Excellence.
At the end of the day, the collaboration of the design and build team at Tranquility Pools, ensures that each client will have the necessary attention to detail, from concept to completion, no matter the scale or complexity of the project.
"Let us create your own personal oasis," Knapp explains. "Escape daily stress, come home to Tranquility."
TRANQUILITY POOLS
Member of Northeast Spa & Pool Association and Pool
& Hot Tub Alliance

7 Argyle Road
Haskell, NJ 07420
973-248-1777
tranquilitypoolsnj.com
staff@tranquilitypoolsnj.com

In Business for 11 Years
Designs and Builds 20—30 Pools per Year
SERVICE AREA: Tri-state