For years in the world of pool design, the mantra has been the same: encourage outdoor living by offering all the same beauty and amenities found in homes. In other words, create a space that provides plenty of cushy seating, a dizzying array of entertainment options, gorgeous and thoughtful design elements, and the ability to prepare fabulous food and drink.
"The most interesting design trends emphasize the overall focus on outdoor family living and entertainment," says Ed Gibbs, president of Toronto-based Gib-San Pools. "This has been a constant for many years."
Today, eager homeowners are asking for even more out of their outdoor living spaces. As a result, advancing technology and new techniques—not to mention pool designers and builders—are rising to meet that challenge.
RESORT INSPIRATION
Inspired by their travels, many homeowners are eager to turn their home environments into mini resorts that echo all the exotic, fun, and far-flung places they've visited. "Resort living is what people are hungry for. When you travel the world, pools are always the focus," Gibbs says. "We decided to bring that possibility home."
"The most interesting design trends emphasize the overall focus on outdoor family living and entertainment."
Ed Gibbs, president of Toronto-based Gib-San Pools
In fact, Tal Thevenot, principal designer and CEO of Aquaterra Outdoors in Dallas, Texas, says he's seeing more and more clients reference travel photos as inspiration for their own backyard oases. Whether it's the whimsy and imagination of Disneyland or the laidback chic of a Caribbean island, clients are excited to recreate "something that really struck a chord with them," Thevenot explains. "To me, it's more of the resort lifestyle in your backyard."
Two of Thevenot's projects bring this cranked-up trend to vivid life. One is a dramatic indoor Roman bathhouse-themed pool, complete with faux aqueducts, guardian lion sculptures, and Corinthian columns. Because Roman baths are open to the sky, the pool's dark blue Venetian plaster ceiling mimics the night sky. It's illuminated by fiber optic lighting arranged into constellations like Pegasus, the fabled winged horse. Extensive historical research into the Roman aesthetic made for these realistic details. Meanwhile, an elevated spa and two huge fire and water features on either end add to the drama. The pool is heated and cooled geothermally.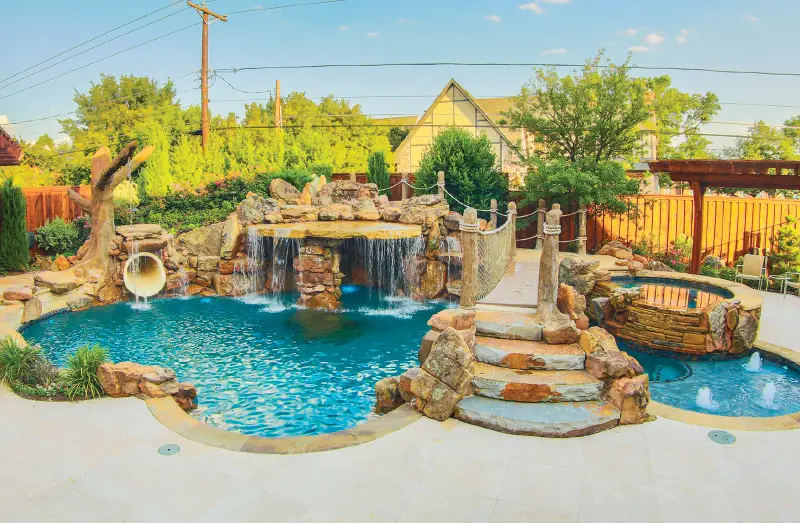 Thevenot also created a Walt Disney World-esque, family-focused Pirates of the Caribbean pool. It includes a rope swing on an artificial tree, underground slide, large grotto, cave off the back, and a rope bridge. The homeowners wanted the atmosphere to be fun and playful, and it certainly is. "It really is all about the kids," Thevenot says.
EXTENDED USE
Gibbs developed a different kind of immersive pool: one that functions year round, even in colder climates, which he says is a paradigm shift.
"We've designed a 365 pool—we call it our Four Seasons pool," he says. "When folks are investing hundreds of thousands of dollars, they demand options and thinking outside the conventional box. With this installation, you don't have the costs of opening and closing and, most of all, the pool is on-demand. Why not have a pool party on New Year's Eve with the snow falling and the pool sparkling?" poses Gibbs.
Danny Wang, principal of Danny Wang Design in Newport Beach, California, describes all-encompassing pools in another way: stretching beyond the typical backyard. He says his firm's projects include a pool over 100 feet long that lines a house on three sides, one whose water stretches from front yard to back, and others that are as big as their partnering homes' footprints.
"We've been building bigger and bigger pools," Wang says. "It's like a private resort for clients, versus going to a five-star hotel where they have to share it with lots of people."
ENTERTAINMENT
Additional technological advancements are taking outdoor living to the next level with the latest trends in entertainment, outdoor grilling, and even pool camouflaging.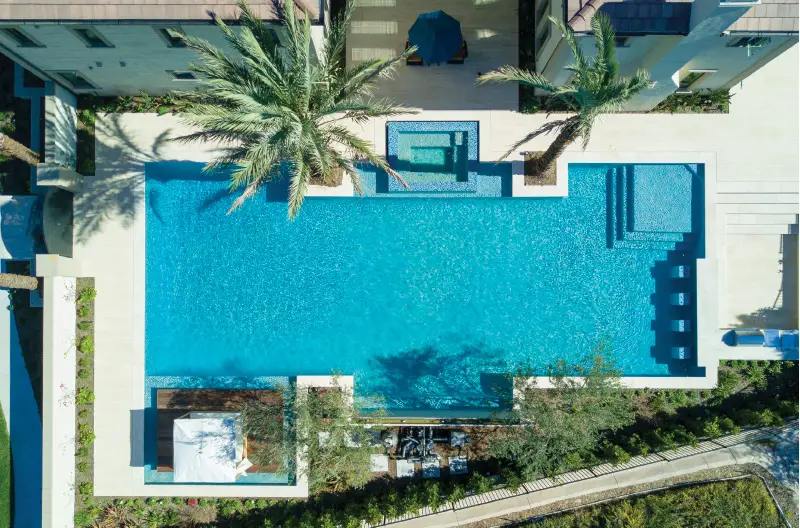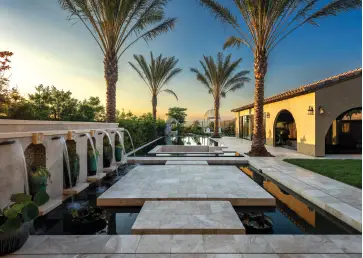 One of Thevenot's large residential pool projects includes an 80-inch television that rises out of a water feature to pivot 360 degrees. Bluetooth technology ties everything together: grilling temperatures, lighting, fire and water features, music, and underwater speakers.
Thevenot also points to technology from the company Twinscape. It lets pool owners maximize a smaller space via a hydraulic system that moves the floating pool floor up, creating an extra patio or even dance floor, with the water relocated underneath.
PERSONAL CONNECTION
Pool designers say that homeowners continue to look for additional ways to connect with family and friends outside. For instance, Gibbs says his firm is installing more and more cocktail pools with a constant depth of about four feet, plus benches and lighting for daytime and nighttime use. He says they're very good for small yards and adult-style living.
"Cocktail pools invite conversation: the phone is left on the lounge chair and real eye-to-eye interaction begins," he says. "The result is refreshing water and refreshing human contact with a cold beverage and laughter."
Likewise, design trends are getting more personalized. "Integrating the architectural design of the home into the poolscape elevates the perception of the backyard space," Gibbs says.
That can be true even for pools that don't always lend themselves to such designs, such as modern pools that embrace clean lines and streamlined materials, points out Ray Corral, president of Mosaicist, Inc., in Coral Gables, Florida. "We take the actual design of the home—the same squares, the same space areas—and make a design out of it to fit the pool bottom," he says.
Instead of a generic pattern, they'll make a mosaic using one-foot by one-foot squares based on a single property motif. Inspiration might come from the iron work on a railing, a pretty archway, a floorplan, or even a special flower in the garden.
"It's ultra-personal; it marries what they like from their home with the pool itself," summarizes Corral. "The effect dresses up a modern, clean-lined pool in a way that you never thought possible."
Trends like these show that the outdoor living trend continues to grow in strength and interest thanks to cutting-edge technology, personalized design, and poolscapes that are limited only by their owners' imaginations.
aquaterraoutdoors.com, dannywang.com, gibsanpools.com, mosaicist.com