W
ith a thoughtful blend of innovative style and the latest technology, Blue Haven offices around the country create state-of-the-art backyard resorts that are distinct in appearance, water- and energy-efficient, and easy and enjoyable to own.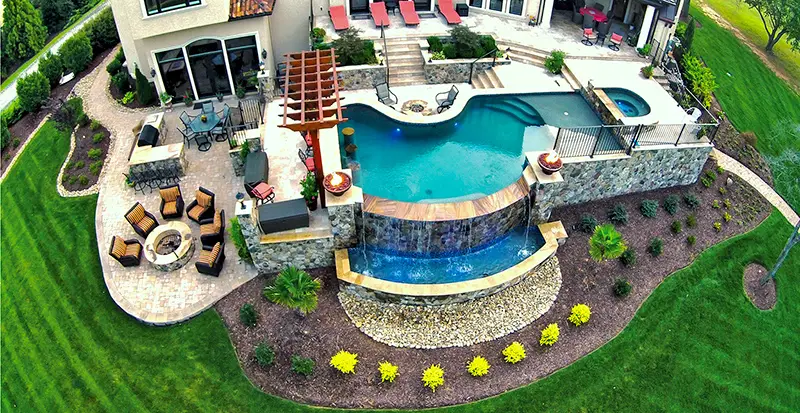 "Our designs achieve the form and function that satisfy today's busy, tech-savvy, environmentally conscious clients." says president Stephen Treese.
Doing so, he says, means integrating cutting-edge systems that automate care, enhance a pool's beauty and longevity, and increase swimmer safety and comfort. 
Blue Haven's complete line of high-tech SmartFeatures® includes stain- and slip-resistant color quartz and pebble interior finishes, dazzling, color-changing LED lighting with dancing light shows, and exclusive Microban® filters that resist mold, bacteria, and viruses.
Advanced purification is also popular. Its powerful OxiPro device delivers the strongest, most reliable water sanitizer available—safely destroying 99.9% of pathogens. It ensures a fresh, healthy, sparkling pool without the typical chlorine aggravations of red eyes, dry skin, and harsh odors. 
According to Treese, another way to deliver a cleaner, warmer, more pleasant swimming environment is with Blue Haven's exclusive SmartFlow™ cleaning and circulation jets that maximize turnover of heated, filtered water in both the pool and spa.
For superb convenience, pool owners can activate heat, spa jets, lighting, and waterfalls with SmartControls® automation. Blue Haven offers systems that integrate with PCs, tablets, and smartphones, as well as a handheld, waterproof remote that swimmers can use while in the pool or spa.
Along with the time-saving and
eco-friendly advantages of SmartFeatures®, Treese explains that clients also benefit from a highly tailored, collaborative design process that integrates each client's artistic tastes and practical needs.
"This approach pays off in genuine value," he says. "It means a real return on your investment with an inspired, fuss-free design that delivers years of sun-splashed liquid luxury."
BLUE HAVEN POOLS & SPAS

800-500-3606

bluehaven.com
Since 1954
SERVICE AREA: Offices Serving 60 U.S. Markets