The Maya Collection is a modular seating system for both outdoor and indoor environments. Highly versatile and scalable, it is ideal for both residential and large public spaces. Composed of corner, sofa, slipper, daybed, and ottoman, the pieces can be configured in multiple variations. A sling lounger and side tables completes the collection. Made of premium solid teak frame and plush polyurethane foam with removable cushion. Built to commercial specifications.
Voted "Best Overall" by The Wall Street Journal, Westminster Teak has brought exceptional design and uncompromising quality to luxury outdoor furniture (primarily in teak) since 1997. One of the most respected names in the industry, Westminster Teak's furniture has been used to furnish some of the most well-known hotels, resorts, restaurants and private clubs of the world, along with Camp David for The White House! Some of these companies include The W Hotels, Ritz Carlton, St. Regis, Four Seasons Resorts, The Breakers Hotel, The James NY, The Kahala, Equinox Spas, The Metropolitan Opera, and Apple, Inc., just to name a few.
Teak is a durable hardwood with dense grain and high natural oil content—qualities that afford it little or no care. It's the material of choice for its sheer beauty and dependability. Its high oil and silica content makes it highly resistant to rotting, warping or splitting, allowing it to withstand the extremities of weather including sun, rain, and snow. For these unique properties in its strength and stability, teak has been for centuries, and still is, the enduring material used in ship building, and of course furniture making.
Being a factory-owned company has its perks and Westminster Teak has leveraged it to its full advantage. "Our furniture products are almost entirely made from one manufacturing facility, our own. In many ways, it is our strength, from a standpoint of inventory supply and management, quality control, product turnaround (from design to production), contract work, and special projects," says Mal Haddad, vice president, Westminster Teak, USA.
"We make products that will endure over time, season after season, year after year, long after the trends are forgotten," explains Haddad. "And, because the furniture lasts a very long time, we end up building relationships with our customers that last just as long. Our designs are as timeless and enduring as the material (teak) it is made of."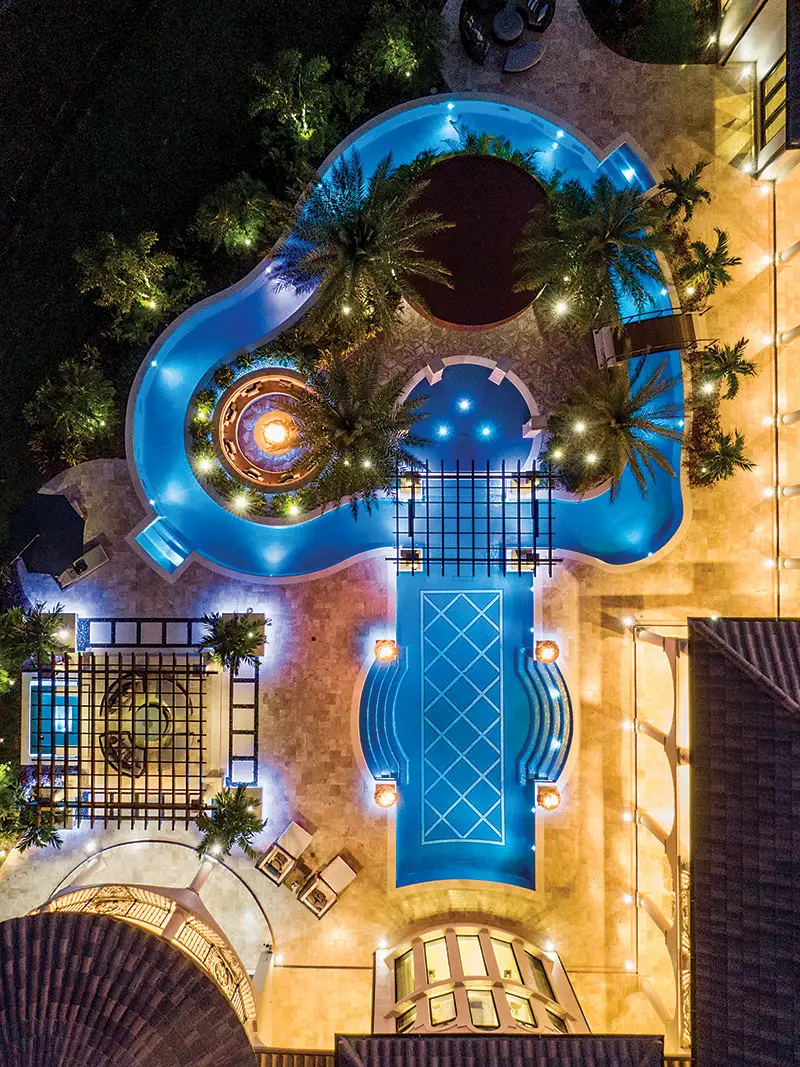 Designed with timeless elegance, the Aman Dais Collection exudes both style and sophistication. Its distinctive sculptural, sweeping lines and low profile frame will gracefully integrate into any setting, both indoor and out. Extraordinarily functional, its three distinct pieces can be configured to fit your space and style for any occasion. From large parties to lazy Sunday afternoons, the Aman Dais becomes the focal point in any space for relaxing or conversation.
Deep, plush Quick Dry Foam seat and back cushions with removable cushion covers on a generously proportioned frame allows unrestricted movement for comfort in seating over extended periods of time. Lavish use of premium teak in the frame of the furniture with 5/8-inch slats ensures maximum structural strength. Built to commercial specifications. With the appropriate finish on the teak frames and fitting fabric selection on the cushions, the entire collection would fit beautifully indoors or out.