Patio heaters are becoming a popular outdoor heating choice thanks to their large heat output—most models can heat from six to 20 feet in diameter—and ability to extend your outdoor entertaining season a few extra months or even year-round.
Along with their growing popularity, patio heaters have expanded in design and now come in an array of placement, style, and fuel options, including decorative gas heaters that look like interior lamps and sleek wall-mounted electric heaters that keep your patio warm and open.
Whether you want to entertain family and friends on a chilly summer night, host a backyard tailgate party in the fall, or expand your holiday festivities to the patio or terrace, here are some stylish patio heater options to keep your outdoor room cozy and chic in cool weather.
Photo courtesy of B. Gordon Builders Inc.
Freestanding Gas Patio Heaters
Gas patio heaters, which use propane or natural gas, are easy and convenient options to heat your outdoor area. These chic patio heaters from Kindle Living provide an attractive alternative to the typical stainless steel standby. Plus, they're made from eco-friendly materials!
Resembling an oversize table lamp, this patio heater from Kindle Living adds whimsical warmth and mood lighting to outdoor gatherings.
Available in both natural gas and propane operation, this freestanding heater features a battery-powered light base that can be used independent of the heater and illuminated in any of seven colors. Its classic silhouette makes it a beautiful complement to any style setting, be it traditional or modern.
Though slim in design, this natural gas-powered patio heater supplies powerful heat performance. As heat radiates from the burner flame, it is enclosed in the fireproof shade and directed downward, wrapping bystanders in a soft and pleasant warmth.
Paired with a smooth shade (pictured), this sleek and sophisticated patio heater harmonizes well with contemporary venues.
Featuring a gently curved base with vertical ribbing (and hidden propane tank), this posh combo patio heater/lamp exudes style and personality. Its graceful design meshes perfectly with the casual charm of a coastal cottage, yet works equally well in formal or modern environments.
It's versatile in function too: along with providing heat and light, an optional cocktail table accessory (not shown) can be placed over the base of the heater to hold drinks or snack plates when entertaining or lounging by the pool.
(Editor's Note: Natural gas and propane heaters are safe for outdoor use only. NEVER place or use a gas or propane heater indoors or in an enclosed area.)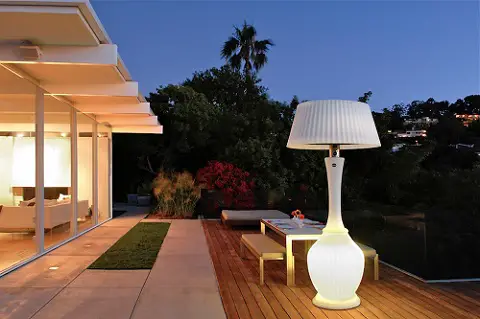 Photos courtesy of Kindle Living
Wall/Ceiling-Mounted Electric Patio Heaters
If you're looking for a more subtle way to heat your patio, then an electric patio heater may be your best option. The quartz infrared electric patio heaters from Infratech can be mounted to a wall or ceiling—and custom colored to match—to warm up your outdoor space without interfering with its décor.
The electric heaters contain quartz heating elements that emit a medium wavelength of light that transfers heat directly to nearby objects—such as a person, table, or floor—rather than heating the air, providing a comfortable and quick warmth.
An electric heater was bracket mounted to the wooden beams of a pavilion to keep this veranda cozy in cool weather without detracting from the pleasant setting.
Photo courtesy of B. Gordon Builders Inc.
Because electric heaters do not produce heat by combustion, they require less clearance than gas heaters and can be used in enclosed patio areas.
To complement its contemporary design, six Infratech heaters were flush mounted into the ceiling of this outdoor room, making it usable year-round. The heaters are configured to a solid-state control system which allows the homeowners to vary their output with the current climate.
Photo courtesy of Infratech